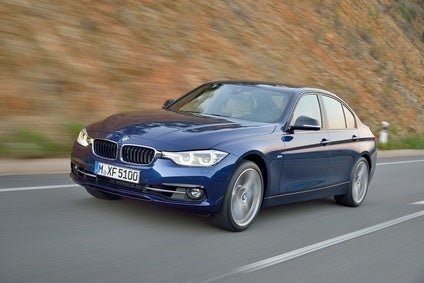 A three cylinder entry level engine is a key change in an updated BMW 3 Series range on sale in Europe from July. There are also new I4 and I6 engines while a plug-in hybrid follows in 2016.
Of the four petrol and seven diesels, all petrol units and the I4 diesels now sourced from the newly developed, modular EfficientDynamics engine family and are equipped with the latest TwinPower turbo technology.
All of these modular engines share a common design with in line cylinder arrangement, a displacement per cylinder of 500 cc and very lightweight, thermally optimised all-aluminium construction. The crankcase is very rigid due to its closed-deck design – which means that the cylinder water jacket is closed at the top – while thermally joined, high strength cylinder liners with twin wire, arc sprayed coating save weight and reduce internal friction.
The three- and four-cylinder engines have balancer shafts for smooth performance throughout the engine speed range. Their modular design is also reflected in standardised interfaces for the engine mounts and the connections to the cooling system, intake and exhaust systems as well as the heating and air conditioning systems.
All petrol engines in the 3 Series sedan and Touring (wagon) models feature an exhaust manifold integrated turbocharger. That means the exhaust gases have only a short distance to travel to the turbocharger system, resulting in very rapid responses to the throttle.
On the diesel 320d, further improvements have been achieved by using anti friction bearings instead of plain bearings. At the same time the system's significantly reduced internal friction is beneficial even during the very short warm-up phase, resulting in substantially reduced cold start fuel consumption. The close coupled catalytic converter and the electrically operated boost pressure control valve (wastegate) further improve the emissions performance of the petrol engines.
All EfficientDynamics engines are equipped with the latest generation TwinPower turbo technology, which in the case of the petrol engines feature twinscroll turbocharging, high precision injection and double-VANOS variable camshaft timing, plus Valvetronic fully variable valve timing.
TwinPower technology for the diesel engines comprises VNT turbocharging (twin-turbocharging on the 335d) and the latest generation of common rail direct injection which, with maximum injection pressures of 2,000 bar, helps reduce fuel consumption and emissions.
The new 318i, which replaces the previous 316i, is the first BMW of this size to be fitted with the new three-cylinder petrol engine. Among the highlights of this engine are its compact dimensions and low weight, excellent performance and efficiency and typical three cylinder qualities such as sharp responses, a willingness to rev and a sporty engine sound. A further advantage is its good vibration characteristics: like a six-cylinder in-line engine, it generates no first- and second-order inertia forces. At the same time, a balancer shaft counteracts engine roll torque.
This new engine delivers 136hp from a displacement of 1.5 litres and has a peak torque of 220Nm. For short periods this can be increased to 230 Nm by using the overboost function that is activated by kickdown. With the six-speed manual gearbox, the 318i accelerates from 0-62mph in just 8.9 seconds on the way to a top speed of 130mph. CO2 emissions are 122 g/km with eight-speed automatic transmission), a 12% improvement over the 316i. Fuel consumption is up to 54.3mpg.
Also making its debut in the revised 3 Series is a new two litre I4 available in two states of tune. In 320i tune it develops 184hp and 290 Nm with six-speed manual gearbox and rear wheel drive. CO2 emissions are up to 134g/km and fuel consumption as low as 48.7.
In 330i form, replacing the 328i, it generates 252hp and 350Nm. CO2 emissions are down 8% to 136g/km and combined fuel consumption is 48.7mpg.
The 3 Series also introduces a new I6 engine. The three litre 340i replaces the 335i and develops 326hp, a 20hp improvement over the previous model. Peak torque is 450 Nm. CO2 emissions are down 7% and combined fuel consumption is as low as 41.5mpg.
Transmissions are six speed manual and eight speed automatic and all wheel drive is standard or optional according to model.
Other changes
Revised headlights include optional LED units with LED indicators now positioned as 'eyebrows' above the headlights. These full-LED headlights work with the optional selective beam system which adjusts the lights using actuators to ensure the road is illuminated as well as possible without dazzling oncoming traffic and vehicles travelling ahead.
With lighting, the headlights are joined by two LED daytime driving light units on each side which highlight the twin headlight arrangement and link the headlight units with the traditional kidney grille.
New rear lights are full LED units. New exhaust tail pipes are fitted to different models depending upon engine output.
Inside, there are new chrome highlights and high gloss surfaces.
Suspension is retuned and slightly stiffer with steering system tweaks with reduced body roll the main benefit. Rear wheel drive variants also ride 10mm lower.
Plug-in hybrid for 2016
A 330e will offer combined fuel consumption of 134.5mpg and CO2 emissions of 49g/km when it joins the range in 2016. Its plug-in hybrid technology combines a 184hp two litre petrol engine with an 80 kW electric motor. The combined output of 252hp and combined maximum torque of 420 Nm give the model a 0-62mph (100km/h) acceleration time of just 6.3 seconds and a top speed of 140mph. This model is also capable of travelling up to 22 miles in all-electric mode.
Connected car
Business navigation is now standard on all saloon and Touring models and the optional Professional system has quicker start-up, faster route calculation and more realistic 3D visualisation in cities. It is also adaptive so that when the driver deliberately deviates from a suggested route several times the system will start to propose the new 'learned' route as the standard one for reaching the selected destination. Automatic map updating (free for the first three years) and the ConnectedDrive Services enable individual regions of the navigation map to be updated wirelessly over the air by means of the vehicle's integrated SIM card. This is carried out in the background while in the home region.
The 3 Series is also the first car in its segment to support LTE – the fastest mobile standard currently available – when fitted with the Professional Navigation system and the extended smartphone connectivity option. This greatly improves network coverage and data transmission speeds, especially in rural areas.