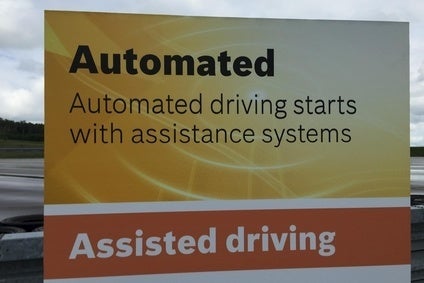 Bosch says adopting automated driving systems could help avoid most accidents as such technology increasingly occupies the thoughts of consumers and legislators.
Addressing the world's media at this week's Automotive Press Briefing at its Boxberg proving ground near Stuttgart, Bosch stressed how the industry was rapidly moving towards automated vehicles and electrified powertrains set against the backdrop of connectivity.
"Automated driving avoids human mistakes and human mistakes are nine out of ten accidents," Bosch Mobility Solutions chairman, Rolf Bulander told the 300 journalists at the Boxberg track.
"In Germany we have done a survey and found 60% of all participants have a positive attitude to autonomous driving. Let me emphasise, autonomous driving is not introduced because we want to add to comfort. No, we want to avoid accidents.
"The question [is] whether there is any hazard involved. No, hazards are removed. This is what the societal debate must know.
"In most cases, this means immense gains in safety, not reduction."
The Bosch Mobility Solutions chief highlighted how the supplier was using driver assistance systems on the path to automated vehicles, with its sales in the sector currently growing by one third per annum.
This year the company says it will double its sales of radar and video sensors, while 2015 will also see it start production of new assistance systems covering remote parking, traffic jams, evasive action and turning against oncoming traffic.
By 2020 Bosch wants to manufacture a highway pilot for automated motorway driving and currently has 2,000 developers working on such functions, some 700 more than two years ago.
"Our acquisition of ZF Lenksysteme has once again improved our prospects," added Bulander. "
"Bosch technology will enable the cars of the future not only to autonomously accelerate and brake, but also steer."