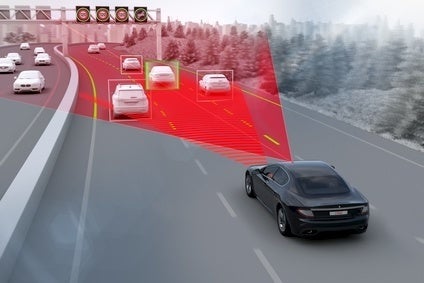 Mega-supplier ZF TRW says automated driving capability will rapidly expand in functionality as systems become ever-more refined.
Technology surrounding self-driving is proceeding apace, although the debate concerning the legislation required for it to be enacted has yet to be thrashed out to a global standard.
ZF TRW compares advances in autonomous driving akin to "throwing a pebble in the pond" as the ripple effect sees suppliers providing more solutions to the engineering challenges.
"The great challenge for automated driving is expect [ed] and unexpected," ZF TRW EVP active and safety technology, Peter Lake told just-auto at the ADAC proving ground near Berlin.
"Systems have to be able to recognise scenarios. If you hand over control you have got to be able to interpret and understand the unexpected.
"It is trying to anticipate what those scenarios are – software engineers need to do their clever stuff. Autonomous driving is highly desirable. There are two things: First of all the potential for increased safety – we say automated driving starts with safety.
"The way I like to think is in an automotive safety function, you have to provide some autonomy in terms of steering and braking. You will see that package expand of why that functionality can be provided and used."
"These systems that provide safety – they also provide opportunities for supply to drive agility and performance. I don't see the things as contradictory."
Lake concedes the legal framework surrounding automated driving is "a fact that has to be weighed," particularly in the US and is one which has to addressed for the systems to move forward.
"That no doubt will be a retardant to the adoption of fully automated driving," said the ZF TRW EVP. "Some pundits give a firm date and I don't think it can be that way.
"This market can develop organically. So many things have to come together. The sensible approach is more gradualist, to define these new scenarios."
"Think about society benefits, mobility for older people [for example]. People who are not interested in driving, but only interested in going from A to B. It will come step by step."
At the Potsdam track, ZF TRW demonstrated its semi-automated driving capabilities in the guise of its 'Highway Driving Assist' feature, which can enable automatic steering, braking and acceleration for highway speeds of more than 40 kmh.