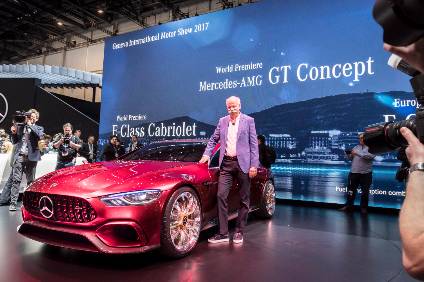 Daimler and Mercedes chief Dieter Zetsche is upbeat on global prospects for the premium car segment and Mercedes-Benz cars.
Speaking in an interview with Bloombeg at the Geneva Motor Show, Zetsche said that the Opel sale to PSA Group won't change anything in the premium segment where Mercedes is experiencing strong sales growth.
"We have started the year with sales in January and February up 15% and that growth is over very strong sales in 2016," he said. "We have started the year with full momentum. Growth is coming from everywhere."
Zetsche also said there were no signs of slowdown to Mercedes car sales in China, its biggest market, which were up by 40.6% in the first two months (95,076 units). NAFTA sales in the first two months were up by 7.6% (59,220 units) and sales in Europe by 10% (124,092 units).
Mercedes-Benz also set new records for unit sales in February in South Korea, Australia, Malaysia, India, Canada and Mexico.
In the Asia-Pacific region the C-Class set a new record last month. Mercedes is also reporting strong sales of its SUVs and has just added the GLA.
Zetsche also told Bloomberg that in Europe, the company will deal with post-Brexit conditions and that he favours free trade everywhere.
"We will do our best whatever boundary conditions we are faced with," he said. "We want free trade for the world; it is best for everybody."
And he takes a long-term view on Mercedes' prospects in the UK market. "We believe UK people will continue to want to buy Mercedes cars," he said.