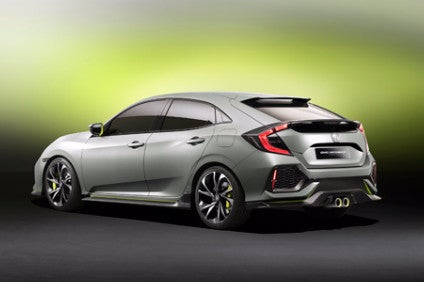 Honda's European production facility, Honda of the UK Manufacturing (HUM), will become the global production hub for the 10th generation Civic hatchback unveiled in Geneva.
The automaker has previously confirmed a spend of EUR270m in new production technologies and processes to prepare Swindon for the new model, which will be exported around the world, including the US. The spending is part of a long-term vision for the European plant in Honda's global operations.
Jason Smith, director of HUM, said: "By establishing HUM as a global production facility for the new Civic hatchback, Honda is demonstrating its long-term commitment to manufacturing in the UK and Europe.
"This is incredibly important for HUM and is a reward for the commitment and effort put in by Honda [workers] in recent years. As a global production facility for the Civic hatchback we look forward to making the most of the opportunity to export this model not only to our European customers, but also to key global markets."
The hatch will be Honda's first European vehicle with new one-litre and 1.5-litre VTEC turbocharged petrol engines while an improved version of the existing 1.6-litre i-DTEC diesel engine will also be offered.
Based on a completely new engine structure and harnessing newly developed turbo systems, the petrol engines feature variable valve motion technology to reduce friction and achieve claimed class-leading output and environmental performance. A turbocharger with a low moment of inertia and high responsiveness, together with direct injection technology seek to achieve an optimum balance between high output and torque, above those of conventional naturally-aspirated engines.
The model will be available in Europe from "early in 2017", Honda said.
Jean-Marc Streng, general manager of Honda Motor Europe, automobiles division, said: "The Civic is a core model for Europe with a strong sales and manufacturing heritage in the region. For many European customers, Civic is synonymous with the Honda brand. The new hatchback continues this tradition, and we hope will continue to be a key volume pillar for the European business."