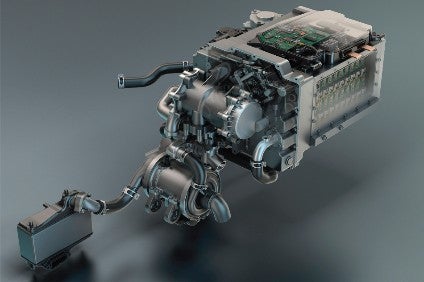 General Motors has received an 11% ($US2bn) stake in EV startup Nikola and gained the right to nominate one director as it announced a deal to engineer, develop and build BEV and FCEV versions of the Nikola Badger truck in return.
Nikola expects to save at least $4bn in battery and powertrain costs over 10 years and over $1bn in engineering and validation costs as a result of the collaboration with GM, both automakers said in a statement.
General Motors said it would receive in excess of $4bn of benefits between the equity value of the shares, contract manufacturing of the Badger, supply contracts for batteries and fuel cells, and EV credits retained over the life of the contract
GM will be exclusive supplier of fuel cells globally (outside Europe) to Nikola for Class 7/8 trucks, providing validation and scale in a multi-billion dollar market.
The Badger is scheduled for production by the end of 2022.
GM will also help Nikola with its Tre, One, Two and NZT models. Nikola will use GM's Ultium battery system and Hydrotec fuel cell technology.
Nikola will exchange $2bn in shares for the services and access to GM parts and components.
"General Motors is one of the top engineering and manufacturing companies in the world. You couldn't dream of a better partnership than this," said Nikola founder and executive chairman Trevor Milton. "By joining together, we get access to their validated parts for all of our programmes, Ultium battery technology and a multi billion dollar fuel cell programme ready for production. Nikola immediately gets decades of supplier and manufacturing knowledge, validated and tested production-ready EV propulsion, world-class engineering and investor confidence."
"This continues the broader deployment of General Motors' new Ultium battery and Hydrotec fuel cell systems," said GM chairman and CEO Mary Barra. "We are growing our presence in multiple high-volume EV segments while building scale to lower battery and fuel cell costs and increase profitability. In addition, applying General Motors' electrified technology solutions to the heavy-duty class of commercial vehicles is another important step in fulfilling our vision of a zero-emissions future."
The agreement extends GM fuel cell technology to the Class 7/8 semi-truck market and is a high-volume commercialisation of the Hydrotec fuel cell system while boosting the company's battery-electric propulsion work. Fuel cells will become increasingly important to the semi-truck market because they are more efficient than petrol or diesel. GM sees additional growth opportunities in multiple transportation, stationary and mobile power end markets.
Ultium battery technology includes silicon and lithium metal anodes which will improve vehicle range, affordability, and reduced dependence on rare and costly metals. It is already demonstrating automotive grade durability and significantly higher energy density.
Nikola will market and sell the Badger and retain the brand. The Badger was first announced on 10 February, 2020 and will make its public debut 3-5 December at Nikola World 2020 in Arizona. Production is expected to start late in 2022 at a location to be announced later.
Nikola stressed it remained an independent company.