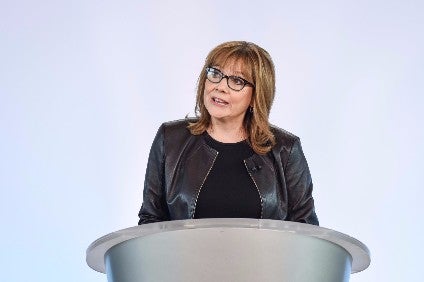 General Motors on Thursday (5 November) reported adjusted EBIT up 78% year on year to US$5.3bn for the third quarter of 2020. Revenue was flat at $35.5bn.
Investor website seekingalpha.com said Q3 non-GAAP EPS of $2.83 beat a consensus analysts' estimate by $1.40 while GAAP EPS of $2.78 beat by $1.43. Revenue beat estimates by $150m. Shares were up 6.7% in premarket trading to $37.60. Adjusted EBIT beat the consensus by $2.64bn.
EBIT-adjusted margin rose 6.5 points to 14.9%.
GM said in a statement automotive liquidity was above target, ending the quarter at $37.8bn. The automaker repaid $5.2bn of its revolving credit facilities during the third quarter, and an additional $3.9bn in October. The company expects to repay the balance by year-end while maintaining a strong cash balance. GM added it had achieved its transformational cost savings target of $4bn since 2018, including $200m in the quarter and expected to continue making progress on the target range of $4 to $4.5bn by the end of 2020.
"Sales in the US and China are recovering faster than many people expected, and GM is benefiting from robust customer demand for our new vehicles
and services, especially our full-size pickups and SUVs. These strong fundamentals and the positive impact of our transformation and austerity measures are helping us to deliver solid earnings, generate significant cash and quickly repay the debt we incurred during the early days of the pandemic," said interim CFO John Stapleton who will hand the reins to Delta Air Lines CFO Paul Jacobson, joining the automaker as CFO on 1 December.
By segment, North America adjusted EBIT improved to $4.4bn from $3bn in Q3 2019. GM said: "Excluding the $(1)bn impact of the 2019 strike, EBIT adjusted improved primarily due to continued cost actions and disciplined incentives." GMNA margins were 15%.
International operations broke even after a $0.1bn loss a year ago due to strong pricing, improved mix and the benefits from cost cuts. China equity income was flat as volume and mix offset unfavourable pricing and regulatory costs.
GM's sales in China in the third quarter grew 12% year over year as the market continued its recovery. Buick and Cadillac performed strongly, with sales increasing 26% and 28%, respectively. The Wuling Hong Guang Mini EV became the best selling EV model in China, and Buick started sales of the Velite 7 all-electric SUV and Velite 6 PHEV in the third quarter.
In South America, GM sold nearly 123,000 vehicles in the quarter and the Chevrolet Onix was the best selling vehicle in the region.
"This year, and the third quarter, is a testament to GM's resilience," said CEO Mary Barra.
"We entered the pandemic in a strong position and acted decisively to keep our teams safe, conserve cash and preserve liquidity, all while keeping our critical product programmes on track. Now we are well positioned to meet rising customer demand, accelerate our transformation and deliver our vision of a world with zero crashes, zero emissions and zero congestion."