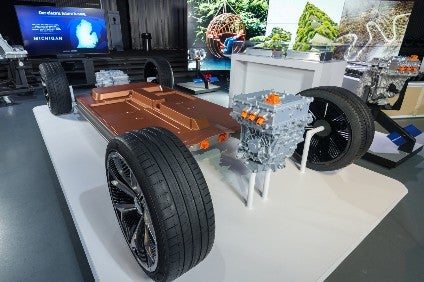 General Motors and Honda said they'd signed a non-binding memorandum of understanding (MoU) to establish a North American automotive alliance.
This would include shared vehicle models sold under each automaker's own brands plus purchasing, research and development, and connected services cooperation.
The pair would collaborate in North America by sharing common vehicle platforms, including both electrified and internal combustion powertrains.
Planning discussions have begun and engineering work starts early in 2021.
GM and Honda agreed last April to jointly develop two new electric vehicles for Honda using GMs flexible global EV platform powered by Ultium batteries.
The relationship, begun 20 years ago, includes recent collaboration between the companies on fuel cells, batteries and the Cruise Origin shared autonomous vehicle.
"This alliance will help both companies accelerate investment in future mobility innovation by freeing up additional resources. Given our strong track record of collaboration, the companies would realise significant synergies in the development of today's vehicle portfolio," said GM president Mark Reuss.
"Through this new alliance with GM, we can achieve substantial cost efficiencies in North America that will enable us to invest in future mobility technology, while maintaining our own distinct and competitive product offerings," said Honda Motor EVP Seiji Kuraishi.
Platform sharing
The new alliance would ensure the use of the best technology and produce "substantial" cost efficiency from shared vehicle platforms and powertrains, joint purchasing, potential manufacturing efficiency and other collaboration, the two automaker said.
"This would enable both GM and Honda to make greater investments in advanced and next generation technology."
GM and Honda also plan to share R&D and engineering cost for future co-developed vehicle and propulsion platforms. This would, they said, "create substantial efficiencies and free up capital, enabling both companies to meet the increasing requirements to invest in various future mobility trends and additional growth opportunities for each company's distinct brands".
Purchasing collaboration and R&D
The pair plan to collaborate on joint purchasing to create further cost efficiency by increasing scale. Effort would focus on joint sourcing of materials, logistics and "localisation strategies".
"Introducing advanced technology is imperative, given shifting consumer and regulatory requirements," GM and Honda said.
They'll consider combining R&D of advanced technology, including electrical architecture, advanced driver assist systems, infotainment, connectivity and vehicle to everything communication.
Last April, the companies announced Honda would use GM's OnStar safety, security and connected services in two new electric Honda brand vehicles based on GM's global EV platform, integrating them with its own HondaLink.
Now GM and Honda will look at further co-development opportunity for future connected services, including OnStar and infotainment.
All aspects of the alliance will be governed by a joint committee made up of senior executives from both companies.