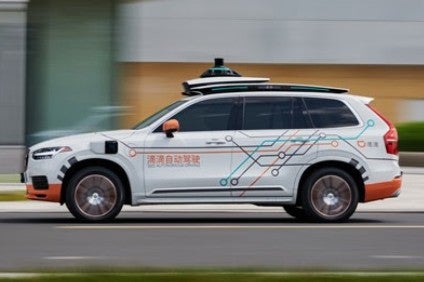 Geely's Volvo Cars and DiDi Autonomous Driving have signed a strategic collaboration agreement on autonomous vehicles for a self-driving test fleet.
Volvo will supply XC90s equipped with the necessary backup systems for steering and braking and collaborate to integrate the additional software and hardware required to make the vehicles ready for autonomous drive.
The cars will be the first to integrate DiDi's new Gemini self-driving hardware platform and will eventually be used for ride-hailing.
The two companies want to build long-term collaboration as DiDi expands its autonomous test fleets across China and the US and scales up its commercial robotaxi operations.
Volvo last year provided XC60s for use in Shanghai's first pilot robotaxi programme. People in some areas of the cityu could book trips by robotaxi using the DiDi app and be driven autonomously though the cars were monitored by a safety driver and engineer.
"This strategic collaboration is further validation of our ambition to be the partner of choice to the world's leading ride-hailing companies," said Hakan Samuelsson, Volvo Cars' chief executive.
Bob Zhang, CEO of DiDi Autonomous Driving, said "Our new self-driving hardware platform incorporates critical hardware improvements from our test passenger service operations in Shanghai."