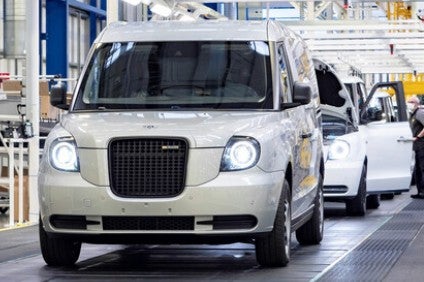 LEVC (London Electric Vehicle Company) has started production of its new electric van derivative of the electrified London TX taxi, called VN5.
The new model was designed, engineered and manufactured at Geely-owned LEVC's award-winning production plant in Ansty, Coventry – the UK's only dedicated electric vehicle factory.
As with 'TX' for taxi, 'VN' means 'van' and '5' represents the volume of the cargo area, five cubic metres. The van shares the flexible production line with the taxi.
VN5 targets the growing one-tonne van sector and LEVC expects the new electric van to account for around 70% of production volume by 2022. First vehicles will be delivered to UK customers before the end of the year and a LHD variant will go into production in March 2021.?
Joerg Hofmann, CEO of LEVC, said: "Today is an historic moment for our iconic company as we launch a second product line and continue our growth strategy to become a leading commercial vehicle manufacturer. VN5 sets new green mobility standards in the industry and establishes a new and highly desirable electric van segment."?
The VN5 project also benefited from government funding through the Advanced Propulsion Centre (APC) which has supported design, development and testing of the new van, including a 32-month prototype testing programme. ?
LEVC's manufacturing facility is a fully digitalised smart 4.0 factory which means all business systems and processes are interlinked and provide live, cloud based data. The facility also boasts built-in rainwater harvesting and solar panel systems designed to further reduce its carbon footprint.
Both TX and VN5 start production in the body structure area of the factory as over 400 individual pieces of aluminium. This 'clean air' environment houses five hot cure robots that apply bonding adhesive to the aluminium and four hot cure ovens that bake the body structures at 185 degrees C for 55-60 minutes. This technology creates a body which LEVC claims is 3-4 times stiffer than a welded body.
Both models share a range-extender electric powertrain. The VN5 can achieve a pure EV range of over 60 miles (98km) and a total flexible range of over 300 miles (489km).
The 5.5m3 cargo area can accommodate two Euro sized pallets and gross payload of 830kg. The van has a large side loading door (enabling a pallet to be side loaded) and a 60/40 split door at the rear.
LEVC plans to have at least 50 dealers in the UK by the end of 2020 plus 30 sales and service facilities in Europe.