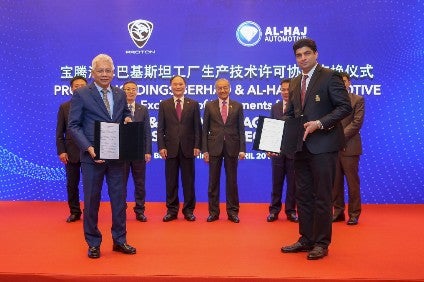 China's Zhejiang Geely Holding Group (Geely) has provided an update on its plans for one of its recent acquisitions, Proton Holdings.
After years of plunging sales, Malaysia's first national carmaker saw its domestic sales jump by over 43% to 18,500 units in the first quarter of 2019, according to its Chinese partner, albeit from last year's rock bottom level.
Geely acquired a 49.9% stake in Proton from local conglomerate DRB-Hicom just under two years ago and the Chinese automaker is now pointing to what it sees as the beginning of a sustained turnaround at its Malaysian partner.
At the end of last year, Proton launched the X70 SUV, based on the Geely Boyue model. Since then it has launched updated versions of two of its own passenger car models, the Iriz and the Persona.
Proton CEO Li Chunrong said the X70 has "refreshed Proton's image" in its home market and helped lift the brand's market share to 12.7% in the first quarter from a lifetime low of 9.5% a year earlier.
Li said the new models would also help boost confidence among Proton's 175 domestic dealerships, adding that at least 85% of these are now "in profit".
Daniel Donghui Li, Geely chief financial officer and a board member at Proton, said that from the outset the Chinese automaker had set a target for Proton to regain its position as the biggest car brand in Malaysia and a top three brand in the ASEAN region.
He added "the results so far are showing that we are on the right path".
Donghui Li suggested Proton would be given a loan of CNY3.1bn (US$463m) from the China Construction Bank to strengthen its R&D operations and improve its manufacturing facilities.
He has set an annual sales target for the brand of between 400,000-500,000 units by 2027 which he expects will be equivalent to 8-10% of Geely group sales. This will involve producing a number of additional Geely models, ranging from SUVs and MPVs to passenger cars and crossover vehicles, with Proton and Geely engineers working close together to localise production in Malaysia.
Geely said it also wants to strengthen Proton's management and improve overall product quality. So far more than 20 Chinese suppliers have established operations in Malaysia which the carmaker said had helped improve local supply chain standards.
Proton also plans to launch car assembly in Pakistan with local partner Al-Haj soon. The local company's factory in Karachi, in which an initial investment of US$30m is planned, would first assemble the Proton Saga. Output is expected to reach 25,000 units a year within four years once other models are added.