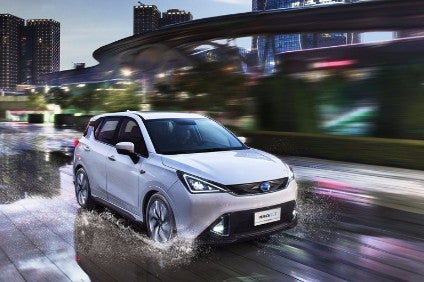 Chinese automaker GAC 's first self-developed smart all-electric SUV, the GE3, is now on sale in China.
The model made its international debut at the Detroit show last January.
It is based on a new EV platform and positioned as a medium- to high-end electric SUV.
Domestic market price is CNY150,200 to CNY173,200 (US$22,200 to $25,600).
The vehicle has a claimed range of 310km (193 miles), a ternary lithium battery which can fast charge to 80% in 30 minutes and claimed acceleration from 0-100km in 9.3 seconds.
Power is 120kW (163.2 hp), torque peaks at 290Nm (214ft lb).
GAC said the flat battery layout "sets a benchmark in terms of space, comfort, safety and performance".
The car can be connected to a smartphone via "smart car companion Little Trumpchi, T-Box Internet of Vehicles 3.0 and the Injoy smart entertainment system.
The SUV's body meets North American roof compression standards.
"Since GAC Motor launched its first hybrid vehicle in 2012, our company has mastered the five core technologies of battery, motor, control unit, electro-mechanical coupling systems and system integration. Developing new energy vehicles is a key strategy of GAC Motor . Launching GE3 is a start and we hope to bring [to market] products that meet the future trends," said the automaker's president Yu Jun.
While structuring a sustainable development strategy to engineer trustworthy, environmental-friendly vehicles that excel in design, performance and reliability, GAC Motor as a leader and benchmark setter in Chinese new energy vehicle industry has set the goal of achieving 1 million in sales volume by 2020, 20 percent of which will be new energy vehicles.
The company also applies sustainable and eco-friendly technologies in vehicle production, using only the best quality and eco-friendly materials. GAC Motor plans to open the smart new energy car industrial park in 2019 and establish a new energy subsidiary company to enter an extraordinary new stage of development.
"GAC Motor 's strategic emphasis in the next five years include launching new energy sedan and SUV models in all markets, achieving 400-500km mileage with electric power and fully charge the batteries in under 30 minutes to solve the consumers' traveling concerns," noted Yu.