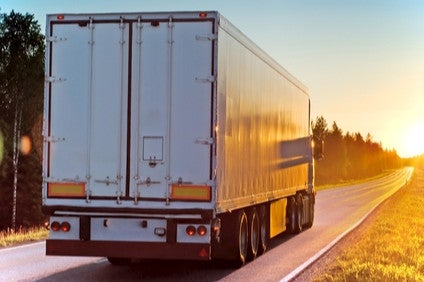 Britain's Freight Transport Association (FTA) is urging the British and French governments to adopt a five-point plan it has suggested to solve the continuing migrant situation at the Port of Calais, which it estimates cost the logistics industry GBP21m (US$30m) last summer alone.
The FTA's comments come after views expressed by the UK Road Haulage Association (RHA), which has consistently made its concerns public surrounding driver safety as migrants attempt to board lorries using either Le Shuttle or cross-English Channel ferry services.
The Association's plan was unveiled as Prime Minister David Cameron and President, François Hollande met in Amiens today (3 March) for the 34th Franco-British Summit, which was dominated by Europe's migrant crisis and the debate surrounding whether or not the UK stays in the European Union.
The FTA says the economic importance of the French port means ongoing disruption caused by the thousands of migrants camped out near the motorway cannot be allowed to continue.
It notes industrial action and increased migrant activity throughout last summer cost the logistics industry an estimated GBP21m due to delays, cancelled sailings and interrupted Eurotunnel crossings.
The 'jungle' migrant camp is currently being partially demolished and its residents offered alternative accommodation, but the FTA says repeated incursions onto port and Eurotunnel premises, as well as attacks on truck drivers and their lorries, require urgent action.
The Association, which has more than 15,000 members, has devised a five-point plan to tackle the issues:
1. To move the migrant camp away from the motorway and Eurotunnel facility to deter migrants from attempting to board commercial vehicles and trains.
2. To secure the Port of Calais and Eurotunnel facility against incursion by migrants and to complete the secure parking zone in the port area for use by operators.
3. To emphasise to the British and French governments the need to maintain the juxtaposed border controls and investment in police and security arrangements to guarantee that drivers' rights to safe passage through the port are respected.
4. To support registration of migrants and processing of asylum claims by the French authorities to legitimise and control those camped out around Calais.
5. To declare the port of Calais and Eurotunnel facility as off-limits to any industrial protests.
The FTA will send the action plan to Cameron following today's summit and is also encouraging hauliers to sign up to the Border Force Accreditation Scheme to help avoid financial penalties if migrants are found on board their vehicles.
"It's a positive step Calais is on the agenda at today's Franco-British Summit and we hope measures will be discussed to end the months of misery for our members," said FTA deputy chief executive, James Hookham.
"We want both governments to adopt this firm plan of action to protect this vital link which handles GBP89bn worth of UK trade every year."