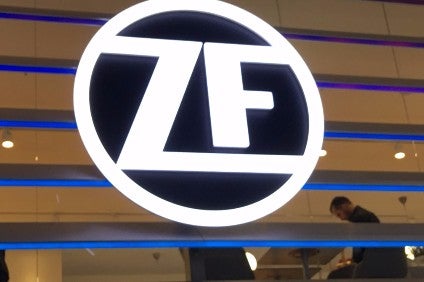 ZF says it has achieved integration with US supplier, TRW faster than anticipated as it moves to capitalise on the power of the combined component giant to address industry megatrends.
The German manufacturer made its comments at the IAA in Frankfurt this week as it also unveiled a new logo for the company, with all divisions now represented using the ZF name two and half years after the acquisition was announced.
"We always talked about a three to five-year period of integration," ZF corporate market board member, Peter Lake told just-auto on the sidelines of this week's IAA in Frankfurt. "We talked about three stages which were get day one under our belts, then have project best collaboration and then a period of structural integration.
"We have done all of the work in the last two years to bring together all our corporate areas. It does not mean the integration is complete – we have got to the point where we say we are one company [and] we have gone through that process with a new image.
"Yes there will be continued change and deeper integration – it is more internal now than external. It was an important message to get out there. We had two different management systems. By putting our sales efforts together and our marketing efforts we can cross-sell and be more effective in providing solutions to our customers."
Part of the driver for the purchase of TRW was to prepare ZF for the future of digitalisation and autonomous driving using the American supplier's background in occupant safety and electronics, as well as steering and braking technology.
The acquisition, adds ZF was the "building block for our Vision Zero Ecosystem" – a growing network of cooperation partners – while its 'Best of Both' approach has identified synergies between the two organisations to create competitive structures as one united organisation.
To realise Vision Zero, a future of mobility with no accidents and zero emissions, ZF is expanding its portfolio of technologies in the areas of driveline, chassis and safety technology.
As well as its in-house development work, the company has set up the Vision Zero Ecosystem, a network of partners, while at IAA, ZF is demonstrating how its mechanical systems are contributing toward Vision Zero today.
Examples are the modular mSTARS rear axle system enabling conventional vehicle platforms to be converted to electric, plus advanced driver assist systems which can detect distraction or potential wrong-way driving.
ZF Aftermarket has already been operating as a combined organisation since January this year, while the supplier has boosted profits and is able to repay acquisition debt earlier than planned.
The company expects sales this year to exceed EUR36bn (US$43bn).