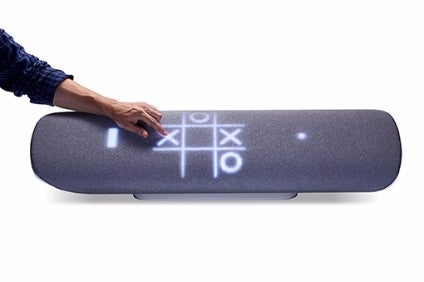 Yanfeng Automotive Interiors (YFAI) says its activeSkin concept will allow the display of data on soft surfaces as the distinction between functional and purely decorative increasingly merges in the future.
The supplier outlined a raft of innovations at this week's IAA in Frankfurt on its XiM18 concept car, which featured activeSkin, as well as other ideas integrating market-ready features such as smart surfaces as well as a front and rear floor console that can be combined together.
Such features will start to occupy increasing space in the automotive landscape as carmakers move to either semi or fully autonomous driving and as the vehicle begins to be used for multiple functions outside its primary goal.
YFAI has already worked to integrate technologies in several surfaces such as wood, plastic, natural fibres and leather, with activeSkin extending this to include textile. The development allows soft, textile-covered surfaces to interact with passengers and display visual information.
As a result, surfaces which previously only had a decorative function, will become touch-sensitive for interiors.
"In the next five to ten years, autonomous driving is coming," YFAI CEO, Johannes Roters told just-auto at the IAA in Frankfurt. "What we show with smart surfaces we have this opportunity [to] give certain functions in the next five years.
"For us [the] interior will be a definite differentiator. Is technology driving the people or people driving the technology? One day the answers will come. Is luxury still needed? I believe it is."
YFAI was showcasing the activeSkin technology as part of a suite of solutions to the future of autonomous and shared mobility driving, which could feature synchronisation of apps digital content, online profiles or personal devices.
A further innovation on display from YFAI was its collaboration with mechatronic components supplier, Kostal, to present smart surfaces in 3D glass. Specifically in Frankfurt, this took the form of the Yanfeng-Kostal-Module or YaKoMo, using 3D glass surfaces combined with new HMI technologies.
"Partnerships [are] an important business model for the future," added Roters. "I don't believe a company by itself can control all these technologies, so we believe in partnerships. Partnerships can be short-term or long-term.
"We are focusing on this to create this new living space, what we call 'Living in Motion.' We call it a business incubation model where we bring in ideas, we are addressing issues and chasing opportunities.
"We need [ed] a smart surface and we found Kostal."