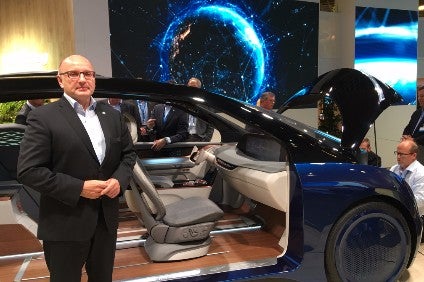 Yanfeng Automotive Interiors (YFAI) says the swift adoption of new technology represents a "huge opportunity" to grow towards its aim of becoming a US$10bn company.
The supplier was outlining its comments at the IAA in Frankfurt, to the backdrop of a rush of automakers announcing they would either proceed to partial or full electric models in ambitious plans to revolution propulsion choices, as well as a push in autonomous driving research.
Yanfeng's part of the stampede to embrace new concepts of mobility, focuses on car interiors, with the advent in particular of autonomous driving presenting a vast commercial business savannah on which to roam.
"This gives us a huge opportunity to grow," YFAI CEO, Johannes Roters told just-auto on the sidelines of the IAA, which will be formally be opened today (14 September) by Angela Merkel, who goes to the polls imminently to secure a fourth term as German Chancellor.
"We call it 'Living Room of the Future' – in the long term the differentiator will be the interior. You can stay in a hotel for 50 bucks or 1,000 bucks but people have different expectations. What does it mean? Our target is to be the new interior of a car [and] we will do it with partnerships connecting all these technologies together."
At the Frankfurt show, YFAI unveiled its eXperience in Motion (XiM18) concept car, showcasing how people could use vehicles if they were no longer had to drive. The model highlighted four different interior modes: Drive, Family, Meeting and Lounge to support the next generation of electric and autonomous vehicles.
Pulling the veil back over the XiM18, the YFAI chief showed ideas encompassing interior surfaces and human-machine interface, as well as combinations of new technologies for cockpits and instrument panels, together with pillar trim, lighting and overhead module integration.
With car sharing potentially forming more of a solution to rapidly rising urban congestion as the world's population continues to rise rapidly, Roters also outlined how technology could be used to personalise driver experience, despite the presence of multiple users.
"We have in the concept car a camera to identify a person – where does he sit [and] what does he do," added the CEO. "You can go in a more relaxed position [for example] and the camera identifies this. Why is this important? For airbags.
"[Also] Do we like this temperature, do we like this light? To create this next living space is our vision. As an interior supplier we see this as a opportunity for future growth."
A further innovation on display from YFAI was the fruits of its collaboration with mechatronic components supplier, Kostal, to present smart surfaces in 3D glass. Specifically in Frankfurt, this took the form of the Yanfeng-Kostal-Module or YaKoMo, using 3D glass surfaces combined with new HMI technologies.