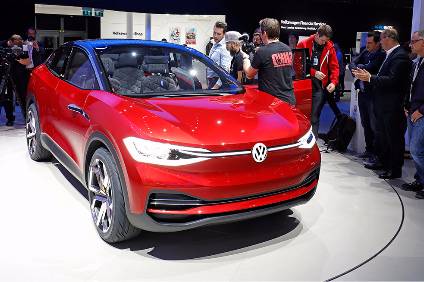 Volkswagen Group has used the Frankfurt Motor Show as a platform to ramp up its plans for electric cars.
VW said it plans to spend EUR20bn to roll out 80 new electric cars across its multi-brand group by 2025, up from a previous goal of 30. Moreover, it wants to offer an electric version of each of its 300 group models by 2030.
"The group as a whole will deliver more than 80 new electric models to customers by 2025, including almost 50 true e-vehicles and 30 plug-in hybrids," said VW Group CEO Matthias Müller.
The Volkswagen Group will 'fully electrify its entire model portfolio by 2030'. That means there will be at least one electric variant of each of the Group's around 300 models – all brands and all markets. "That's not a non-binding declaration of intent, but a commitment we'll be measured by as of this day," stresses Müller.
The company will provide more than EUR20bn for direct investment in industrialising electromobility by 2030. The money will be spent on vehicles based on two completely newly developed electric platforms, as well as on the plants and workforce qualification. It will also go toward the charging infrastructure, as well as the dealership and sales organisations.
"We also won't let the issue of batteries be taken out of our hands," said Müller. The company will need a battery capacity of more than 150 GWh a year by 2025 solely to fit its own e-fleet with lithium-ion batteries. To cater for that enormous demand, the Volkswagen Group has initiated an invitation to tender for long-term strategic partnerships for China, Europe and the United States. "We're talking here about one of the largest procurement projects in our industry's history, one with a global order volume of more than EUR50bn over its term," said Müller.
As VW Group continues to grapple with the challenges and fallout from 'dieselgate', the CEO emphasised that it is aiming for leadership in the field of electrification. "We want to make Volkswagen the world's number 1 when it comes to electromobility by 2025," Müller said. One-in-four of all new vehicles from the Group might then be powered solely by electricity. "Depending on how the market develops, we're talking here about up to three million e-cars a year."
Müller also painted a picture of e-vehicles with ranges of up to 600 kilometres, short charging times, high quality and affordable prices. "A company like Volkswagen must go forward boldly. A company like Volkswagen has to lead, not follow! Also and in particular when it comes to future-oriented topics. And especially so when the car's heart – its drive – is involved."
Müller also pointed out that a "widespread charging infrastructure in cities and along highways is needed soon". The transport transition and energy transition are also inextricably linked, he said. "That's a shared task we all need. It's my firm conviction that we'll succeed if policymakers, the power industry and car makers work together."
"Nothing can stop the transformation in our industry. And we'll lead that transformation."
Müller also made the point that conventional powertrain technologies also require investment. "Today's vehicles are earning us the money we need to invest billions in the future. And we won't achieve our climate targets without efficient and clean latest-generation diesel vehicles."