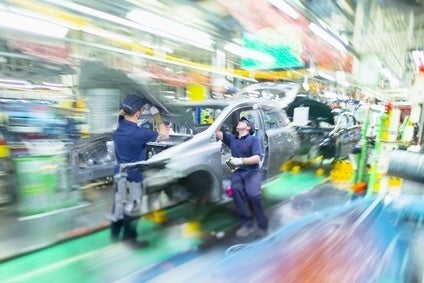 Toyota Purchasing says marrying the challenges of quality with high volume are key to its performance in Europe. The Japanese automaker made the comments at Frankfurt IAA 2015 as it revealed its Toyota New Global Architecture (TNGA) concept.
TNGA aims to standardise platforms and components to be manufactured covering the spectrum from sports cars to SUVs, using what it describes as "more efficient production methods." The architecture will form the basis for Toyota's future powertrain and vehicle development, standardising size and position of key components within standard new vehicle platforms.
"Of course [in] global Toyota, we are developing new platforms, therefore how to secure quality?" Toyota Europe EVP R&D/Purchasing, Masahisa Nagata, told just-auto on the sidelines of the Frankfurt show.
"How to realise quality with high volume is very important – Toyota quality is the lifeline of our customer. Our purchasing line is not to just select the cheaper supplier, but how to grow with Toyota philosophy.
"In Japan, we have a history so therefore it is easier for us, but global sourcing with global suppliers is very important. Ten, 15 years ago, I was here in Frankfurt. At the beginning, there was a big gap with culture, but as of today we have a very good understanding what is Toyota."
The manufacturer adds TNGA will see "smaller, more flexible factories" with production lines able to adapt to different production requirements.
The new Prius uses the first TNGA platform to be developed, with the concept used for future models. Toyota notes it will reduce the number and variety of different components to raise efficiency and save time.
TNGA will also promote use of high-strength steels with the new Prius, for example, having a 60% more rigid body shell, with the material as reinforcement in key areas.