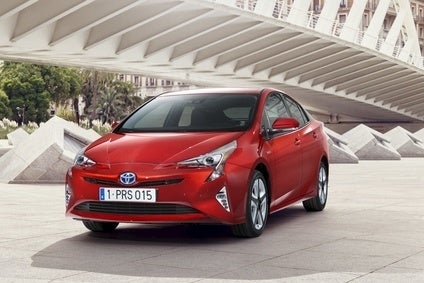 Toyota says it is seeking to find new suppliers for its myriad projects as the automaker looks to implement its Toyota New Global Architecture (TNGA) approach to manufacturing.
The Japanese automaker made its comments to just-auto on the sidelines of this week's Frankfurt Motor Show, which is expected to welcome more than 1m people through its doors.
"We try to have cross communication – the suppliers understand," Toyota Europe EVP R&D/Purchasing, Masahisa Nagata, told just-auto in Frankfurt. "We have business with trusted suppliers, but some body parts or plastic parts, we are still expanding our business partners.
"Especially interior parts. Therefore, project by project, we are looking for new suppliers. Mutual understanding is key. Each project has a target – and we must deliver that target."
The manufacturer says TNGA will be the foundation for all its future powertrain and vehicle development, changing the way it designs, engineers and manufactures vehicles. The process will be streamlined by standardising the size and position of key components within new vehicle platforms.
Production lines will be mounted on the floor rather than being suspended from above, while Toyota anticipates TNGA will enable multiple models to be produced from the same line.
The sharing of many common components among different vehicles in different segments will greatly reduce, maintains the automaker, the number of different parts that have to be designed, manufactured and supplied.
Toyota calculates TNGA will reduce the amount of manpower required for vehicle development by 20%, while reducing investment required to bring new products to market.
Much speculation was aired at Frankfurt as to whether the European Commission (EC) will move to even stricter CO2 emissions standards than are currently in place and the Toyota purchaser added the automaker was actively involved in driving down the figures.
The EC has specified 95g of CO2 per 100km by 2021 but some talk around the colossal Frankfurt halls was whether or not Brussels could move yet further in imposing a 75g limit – a number one supplier has already confidently predicted it will achieve.
"I was an engine designer," said Nagata. "Maybe some technological breakthrough is needed, but if such a law [lower emissions rates] will be introduced we can achieve, but it is very tough. Our task, we believe, is to reduce CO2."
Part of that reduction may come about through the use of alternative fuels such as hydrogen or even the increasing acceptance of pure electric vehicles, but Nagata pointed to the global success of its Prius hybrid, which is now regarded by many as a benchmark in the energy field.
"Key is battery cost and battery cost is [going] down. We are developing many types of batteries in Japan and Toyota Motor Europe is supporting. Battery evolution is key.
"Maybe we find new suppliers or partners. Connected cars or autonomous cars, new technology is required together with R&D purchasing power to grow together – it is a big challenge."