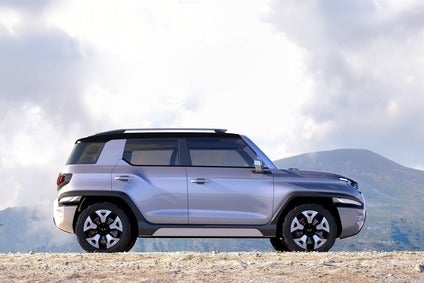 SsangYong has shown a concept at Frankfurt that it describes as a reinterpretation of Korando, with a contemporary twist for those with an active lifestyle.
The XAV-Adventure concept was showcased at the Seoul Motor Show earlier this year, and the Mahindra-owned company says it will help "redefine the future direction of compact SUVs produced by SsangYong". Together with Tivoli, these new vehicles are being designed to meet the needs of the more active younger generation, who require their cars to crossover between their daily transport needs, and the activities they pursue on vacation and at weekends, SsangYong claims.
XAV-Adventure is described by SsangYong as a true SUV with chunky proportions and masculine looks. The strong and robust design create a capacious, square and useable interior space to meet the "needs of those who carry large, cumbersome sports equipment".
The vehicle is offered with the choice of 1.6 litre diesel and 1.6 litre petrol engines and is also equipped with a hybrid electric E-4WD system. The E-4WD system comprises a lithium ion battery and two rear mounted electric motors that give the option of two driving modes: hybrid fuel economy mode and hybrid performance mode. The system also provides for secure off-road and urban driving.