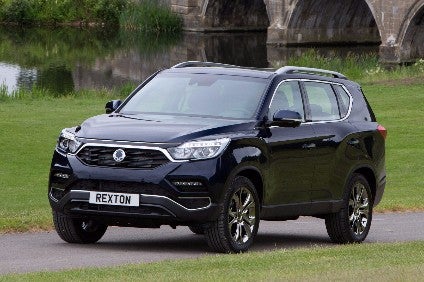 The redesigned Ssangyong Rexton, making its European debut at the Frankfurt show, will push the South Korean brand to a new level. That's the confident prediction from Paul Williams, head of Ssangyong in the UK, the brand's best performing market in Europe.
He said: "The car got extremely positive reviews from the press who drove the car in Korea earlier this year and there's been an equally encouraging reaction from dealers. The new Rexton has great styling and the interior has really moved up the scale in terms of equipment and upholstery."
Back home in Korea, the car has already taken the number one spot for large SUVs while in Europe it is providing the catalyst for interest from a number of potential new dealers.
Williams said: "The interesting thing is the car doesn't fit into the normal categories, it still has a ladder chassis and relatively high CO2 but it can do a job most soft roaders can't do while it is considerably less expensive than other large offerings from the likes of Land Rover or Toyota."
At prices ranging from GBP27,000-GBP37,000, the Rexton costs around the same as three or four year old examples of its rivals.
Williams added: "We have just received residual value figures and the car has been rated at 46% after three years which is better than nearly all its major rivals.
"Many of the large SUVs have gone so far upmarket now in price they have become too posh to pull."
Williams is convinced the car will appeal to a wider market and is looking at sales of around 2,000 a year in the UK, up from current levels of around 400. He said the new Rexton has the same 2.2-litre diesel as its predecessor although power and torque have been increased.
"It is an ideal car for towing and getting through muddy fields and is great value."
Williams added Ssangyong has no way near reached its full potential.
"We are still building an infrastructure but the things we have put in place so far are starting to pay dividends."
The brand will introduce two new pickup trucks next year and Williams is looking to increase UK sales this year to 5,200, up from 4,800 in 2016.
See also: SsangYong plots 250K pa growth path