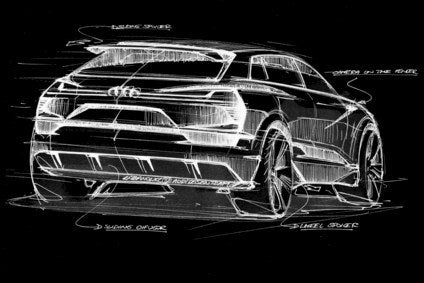 Audi will show its first purely electric Audi SUV, the e-tron quattro concept, at the upcoming Frankfurt Motor Show. The new SUV will be followed by a production ready vehicle scheduled for 2018 ('Q6').
Audi plans that the series production electric SUV will be capable of more than 310 miles (500km) range on a full charge and has already announced that it is working with suppliers on a suitable battery that will be produced in Europe.
Audi says the e-tron quattro concept benefits from expertise gained in the development of the R8 e-tron, and the series production model will be the brand's first large-series electric car when it enters production in 2018.
Three electric motors – one on the front axle and two on the rear axle – drive the Audi e-tron quattro concept.
The study is based on the second-generation modular longitudinal platform, which Audi maintains provides 'considerable scope for the drive system and package'. Its length is between that of the Audi Q5 and the Q7, Audi says (hence the 'Q6' moniker we have applied).
Audi also says the spacious interior offers 'room for four people', a description that perhaps underlines that a very big battery – capable of delivering 500km of range – is planned for the model, which will be competing with Tesla's upcoming (and delayed) Model X.
See also: GERMANY: Audi plans 500km range EV battery for future SUV