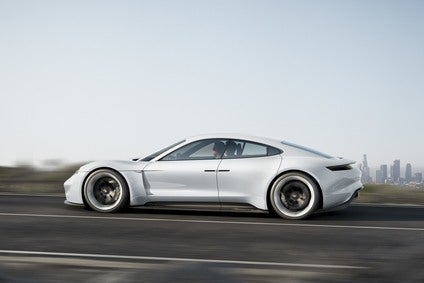 Porsche has shown an electric sports car concept at Frankfurt. Porsche says the 'Mission E' concept car shows how Porsche envisions the future of the electric sports car.
The all-wheel drive four-door car design develops a total power of over 600 hp (440kW) and comes with a claimed driving range of over 500 kms. Porsche also says that an innovative 800-volts battery charging system ('Porsche Turbo Charging') re­duces charging time to "just slightly longer than it takes to fill a car's fuel tank today". At the quick charge station, it takes just over fifteen minutes to provide enough charge for around 80 per cent of the total range.
Porsche says the drive system of the Mission E is entirely new, yet it is also proven in motor racing. Two permanently-excited synchronous motors (PSM) – similar to those used in this year's Le Mans victor, the 919 hybrid – accelerate the sports car and recover bra­king energy.
The Mission E also comes with a lightweight body, optimal weight distribution and a low centre of gravity. The battery mounted in the car's underbody, which is based on the latest lithium-ion technology, runs the whole length between the front and rear axles. This, Posrche says, distributes its weight to the two drive axles uniformly, resulting in excep­tionally good balance. In addition, it makes the sports car's centre of gravity extremely low. Both of these factors significantly boost performance and a sports car feeling, Porsche claims. The body as a whole is made up of a functional mix of aluminium, steel and carbon fibre reinforced polymer. The wheels are made of carbon: the Mission E has wide tyres mounted on 21-inch wheels in front and 22-inch wheels at the rear.
Porsche also says the all-electric drive concept made it possible to fully reinterpret the interior. For example, the lack of a transmission tunnel opened up space and "gives a lighter and more airy atmosphere to the entire interior". Race bucket seats served as inspiration for the four single seats.