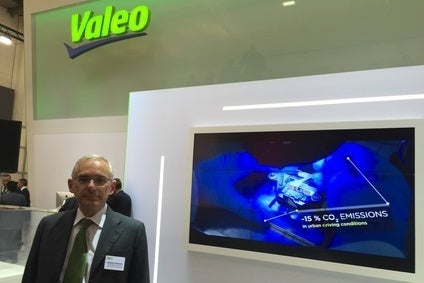 Valeo says it strongly believes downsizing will help it achieve increasingly ambitious CO2 targets both currently in force and mooted for the future.
The European Commission in Brussels says CO2 emissions must reach 95g per 100km driven by 2021, with the French supplier itself even previously noting it was confident it could attain 75g.
"C02 will be driven by regulation, [but] the devil is in the detail," Valeo innovation vice president, Guillaume Devauchelle told just-auto on the sidelines of this year's Frankfurt IAA 2015. "There [are] some battles between OEMs because those who have premium cars have more money… [than] those with city cars [for example].
"Frankly speaking, in Valeo we are supplying everybody. What we believe as a very solid phenomenon is we are going towards downsizing. The question – and this is exactly what we do – is to offer solutions.
"Affordable, providing fun to drive and C02 reduction. You might have a smaller engine with a big turbo – you press the pedal and you have the torque.
"Internal combustion engines will remain by far the mainstream. A pure battery operated vehicle will remain marginal – we will offer solutions for that but we have to remain active for the main part of the market."
One of the themes of Frankfurt IAA 2015 was lightweighting in a bid to strive for ever-greater CO2 reduction, but Valeo notes this is not a priority as it develops its own technology.
"On heavy equipment for sure, we can save some grams," added Devauchelle. "For us it is not such a big deal. We use new types of plastics, but for us it is just fine tuning.
"We have two targets: one is CO2 reduction driven by regulation. Everybody has to comply. The second…is intuitive driving, which is a mix of autonomous car and connected car. Easy to understand – not rocket science."
Valeo has set itself the very ambitious goal of almost 60% growth of annual sales revenue to EUR20bn (US$22.4bn) by 2020, driven by CO2 reduction and an improving presence in high-growth emerging markets, a position the Valeo innovation VP believes is eminently achievable.
"We are quietly confident of EUR20bn turnover in 2010," said Devauchelle. "The risk is not on our shoulders – it is on car manufacturers' shoulders.
"It is for us a kind of risk mitigation because we are delivering German premium, French volume [as well as to] Japan, China, Korea and the US [among others]."