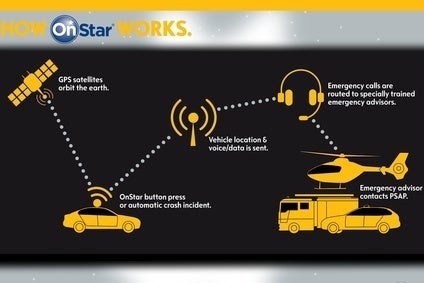 Connectivity and mobility – go back three or four years and they weren't even on the radar. They are now the buzzwords at the Frankfurt IAA.
As well as their new products, all the automakers were talking about being connected to keep pace with the new generation of car buyers. The vehicle and the smartphone, it seems, will be inextricably linked in future.
Amongst the pacemakers is General Motors which is currently rolling out its OnStar programme. It will be available through the Opel and Vauxhall ranges – standard in mid and upper trim models but will can also be added to baseline vehicles.
In the UK, OnStar allows access to a multi-lingual call centre based at Vauxhall's headquarters in Luton, England. Manned 24-hours a day this can provide emergency help, provide remote vehicle diagnostics and even tell you where the nearest Italian restaurant is
A second area of connectivity in Opel and Vauxhall models will be 4G wi fi which car be connected to up to seven devices in the car. Opel connectivity expert David Voss said GM's connectivity plans all centre around OnStar allowing the vehicle and its occupants to be connected to the Internet of Things.
He added: "GM is partnering with a number of companies in Silicon Valley, California, so that we can seamlessly integrate all the technologies with our existing infotainment systems. OnStar is also another significant step as an enabler for autonomous vehicles."
Ford is another company plugging in to the Silicon Valley, establishing its own innovation centre as well as partnering with companies based there, tapping into the available expertise. The Blue Oval has also been running 25 mobility experiments around the world this year and have found two areas on which to focus, according to Ford of Europe chief Barb Samardzich – alternative ownership and multi-model urban transport.
She said: "We are now looking at fractional ownership where Ford owns the vehicles and people sign up and use a car when they need it, booking it by smart phone app which tells them where the nearest car is."
Ford has been running its GoDrive car share scheme in London with a good degree of success. Ford Credit has come up with another model, contacting owners to offer a peer-to-peer scheme whereby they can swap vehicles with each other for a weekend or for specific purposes.
Samardzich added: "In terms of multi-model transport we have linked with a bicycle manufacturer to develop a foldable electric bike that can be stored in a Focus or Transit Connect. Once again using an app, people can programme their journey and it will tell them the best way to travel with car and cycle as well as linking into public transport. The app also provides details on traffic, timetables and even the weather."
She said the rise in car sharing is leading to a re-think on business models in the auto industry. "Manufacturers and dealers will have to have a look at the way we do things in the future because the whole ownership model could change. We could actually own most of the cars we make and that goes for the dealers as well. In fact our car share programme in Germany is run by dealers so they are already embracing change."