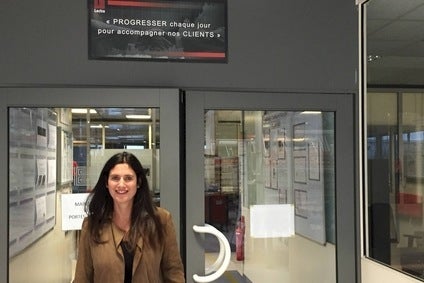 Increasing labour costs in China coupled with tough implementation of lean manufacturing have seen automotive supplier Lectra firmly commit to its home base in France.
For industries with significant workforces, China is clearly still an attractive proposition, but integrated technology solution provider, Lectra, with its focus on fabrics and leather for seating and air bags as well as car interiors, has 1,500 employees making a French focus more possible.
"We would have saved 24% of global cost of production [in China, but], at the same time we made a study that launched a big challenge, would it be possible to cut prices by 25%-30% by redesigning our our cutters?" said Lectra director manufacturing, hardware and industrial operations, Laurence Jacquot at the supplier's factory near Bordeaux.
"We preferred to invest in the new design of the Vectra [cutter] range – the suppliers were involved – [and] we agreed a new offer. It was cheaper to produce here [France] than in China. It is possible because we launched a lean manufacturing project to eliminate all the non-value added.
"Manpower is cheaper [in China] than in France, but it is changing, it is increasing."
Lectra's groundbreaking decision to remain at home forms part of Paris and regional government plans for the 'Usine du Futur' or Factory of the Future which encourages business to stay in France which is still posting stubbornly high unemployment rates.
The supplier's home city of Bordeaux and Aquitaine region is host to numerous hi-tech industries, while to the South-East is the powerhouse of Toulouse, which remains the heart of France's aeronautical expertise in the guise of Airbus.
"The objective is to invest in industry to demonstrate it is possible still produce in France," said Jacquot, who is also vice president innovation of the Club des Enterprises de Tailles Intermediaires, which aims to promote SMEs in the region.
"More and more we see relocation – in Aquitaine it is very common. The government of this region is very active and helps companies so there is a very big programme and I am involved in this.
"There are 250 companies which have made an assessment of the capacity…to improve and there is more competivity. The results are very interesting because there is a lot of margin of improvement. We can be competitive even if we are in France."
Established in 1973, Lectra generated revenues of EUR211m (US$235m) last year and as well as fabric and leather cutting for the auto sector, also works in the fashion, apparel and furniture industries with customers in more than 100 countries.
It has 32 subsidiaries as well as technical experts in five global call centres; Bordeaux, Shanghai, Milan, Madrid and Atlanta to allow customers to control their software and equipment remotely.