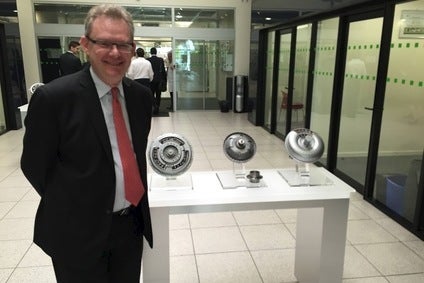 Valeo says it has the technology to reach 75g of CO2 per 100km as European regulations look to turn the screw ever tighter on vehicle fuel emissions.
The European Commission (EC) has specified an already highly-ambitious target of 95g/CO2/100km by 2021 as increasing urbanisation even among mature markets on the Old Continent continues apace, but the French supplier firmly believes it can go far further.
"We are providing solutions to 95g and today we are capable of doing better than that," Valeo R&D marketing director hybrid electric strategy, Michel Forissier told just-auto at the supplier's Amiens plant in northern France.
"We know we are capable to achieve down to 75g on certain vehicles – it is a world of opportunities. This is our duty, that we will supply carmakers.
"It creates a really interesting way to develop new solutions in order to have better cars. It creates not only excitement – we are engineers and we are happy to develop solutions – it is better for everybody."
Valeo has set itself a target of near 60% growth of annual sales revenue to EUR20bn (US$66.2bn) by 2020, with that increase driven by its CO2 reduction focus, improved vehicle performance, what it describes as intuitive driving and more presence in high-growth, emerging markets.
"Our strategy is very simple," said Forissier. "We are aiming – and this is for the whole Valeo Group – we are aiming to reduce CO2 emissions [and] lower fuel consumption.
"We are really developing in Asia because this is the market of the future. [Also] "We have the capacity to deal with the whole world."
"We do believe regulations are really fundamental in the industry. We will never argue about regulations – we are fine with that.
"We do believe it is our duty to develop affordable technologies for the mass market. We believe we can do hybrids at EUR20,000 and below – that is where the market will go."
Valeo says its "geographical repositioning" will mean it will aim to generate more than one-third of its original equipment sales in Asia and around 40% in Europe by 2020, compared to 28% and 49%, respectively, in 2014.