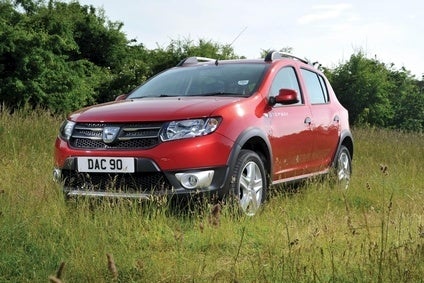 Renault's low cost Dacia brand has finally added automatic transmission to its powertrain options though the gearbox is an automated manual rather than a conventional epicyclic, CVT or twin clutch unit. The Logan, Logan MCV, Sandero and Sandero Stepway will all be offered with the new transmission, in conjunction with a petrol engine before the end of this year – but not the Duster.
'Easy-R' automated manual (specific versions in selected markets) "will be available at an affordable price", Dacia promised, coupled with the 90hp/140Nm TCe 90 petrol engine. With Stop & Start fitted (Dacia is standardising this range-wide as part of its 2016 model year updates), it returns EU combined-cycle fuel consumption of 4.9 litres /100km, equivalent to CO2 emissions of 109g/km, results are identical for models with a manual gearbox.
The Easy-R transmission has computer-controlled electromechanical actuators that declutch, change gear and then re-engage the clutch. There are automated drive and driver-selected manual modes but automation will override an unsuitable driver selection. In drive mode, the computer times ratio changes according to engine and vehicle speed plus driving style.
The gearbox also includes kickdown and can downshift one or two ratios to release the engine's full power.
A crawl function – a useful feature of most full automatics – is included. If the driver lifts his foot from the brake, the vehicle automatically moves slowly forwards or backwards without any pressure being applied to the throttle. This facilitates low-speed manoeuvres (such as parallel parking) and – in conjunction with Hill Start Assist – helps to keep the car stable on gentle inclines. It is also useful in traffic jams, Dacia said.
Since this type of transmission was introduced in Europe – notably by PSA – there have been some reports of premature clutch plate wear not covered by warranty (because it's deemed a 'wear' item, albeit with most gear changes not controlled by the driver) with expensive repairs required at relatively low mileages.
Dacia said its transmission had been "evaluated for 130,000 hours on the dyno… and every single Easy-R transmission receives thorough quality control checks as it leaves the assembly line".