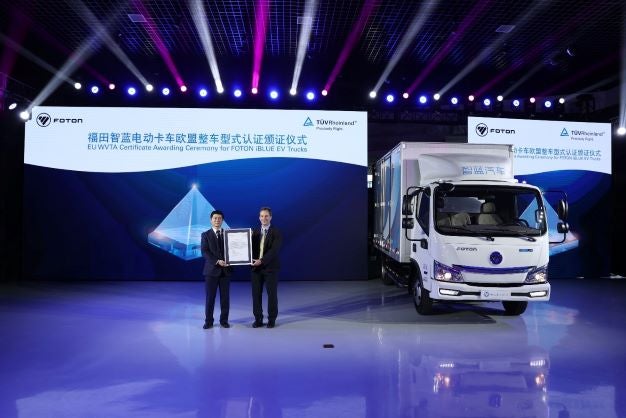 Chinese EV truck maker Foton said its iBlue EV truck has been granted a European Whole Vehicle Type Approval certificate (WVTA) by Germany's TUV Rheinland, the independent, third party testing, inspection and certification organisation, also one of the designated technical services for WVTA.
The truck maker said the model now "fully meets the high standards of EU regulation [and] could therefore be exported to EU and non-EU countries and regions that require WVTA certification".
This was also its first EU electric vehicle type approval certificate for trucks.
The EU WVTA certificate serves as an 'access card' for automotive products to be sold across the EU market and is accepted without the need for further testing until a directive is updated or the design changes, Foton claimed.
The iBlue truck passed around 30 item checks for the WVTA certificate such as EMC, electric safety specification, NVH, lane departure warning and advanced emergency braking.
It uses a CATL high capacity, high energy density battery and a PMSM (permanent magnet synchronous motor).
Foton added its full electric buses had been certified by the WVTA and went into operation in New Zealand in April this year.