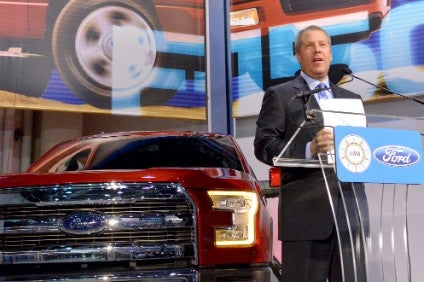 Former Ford president of automotive, Joe Hinrichs, has joined the board of directors at WaveSense, a Boston based startup that uses ground penetrating radar to help self driving vehicles better understand and navigate road environments, media reports said.
The website fordauthority.com said Hinrichs had joined former General Motors CFO Chuck Stevens and former Continental chief technology officer Kurt Lehmann who are on the company's advisory board.
The move was first reported by Automotive News.
"Joe, Chuck, and Kurt are world class leaders in the automotive industry, and they will be invaluable assets as WaveSense navigates customer partnering and scale-up," WaveSense CEO Tarik Bolat was quoted as saying.
"Their guidance will help us move faster and smarter, and we're thrilled to have them as part of the team."
"WaveSense is delivering the most precise and reliable vehicle positioning system at a cost that allows broad adoption," Hinrichs reportedly said.
"Knowing where you are is fundamental to enabling the next generation safety and performance features the automotive industry is looking for."
According to fordauthority.com, most companies working on sensors for self driving vehicles focus on what the human driver sees but WaveSense's approach centres around ground penetrating radar capable of seeing through a road at depths up to 10 feet and creating a map of the road's subsurface.
The system is capable of receiving unique reflections based on soil types, soil density, roots, rocks, and utility infrastructure ans is far more accurate than other types of sensors, allowing vehicles to 'localise' themselves to within 2cm of a precise location.
The report noted that, last February, Ford made a surprise announcement it was promoting Jim Farley to chief operating officer, and Hinrichs was retiring after 19 years with the company.
According to fordauthority.com, the news came as a surprise as there had been no indications Hinrichs was considering retirement, leading to suspicions that that he had been forced to leave.
Those suspicions were mostly confirmed, the website added, when several employees posted comments praising Hinrichs on the automaker's internal website, along with multiple claims he was forced out.
"Considering the fact that his departure followed some very disappointing Q4 2019 results, it certainly seemed like odd timing. Regardless, it now appears the the former Ford executive has landed on his feet quite nicely," the fordauthority.com report added.