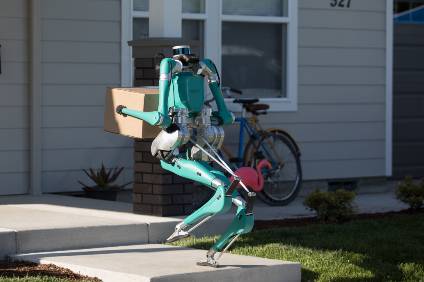 Ford is teaming up with Agility Robotics to explore a robotic solution for future autonomous vehicle goods deliveries. The company says that together they will work toward making sure self-driving vehicles are uniquely outfitted to accomplish something that's proven surprisingly difficult to do: Carry out that final step of getting the delivery package from the vehicle to the customer's door.
Ford says that as self-driving vehicles can potentially move people and goods simultaneously, they hold great potential to make deliveries even more convenient and efficient. A ride-hailing trip could double as a delivery service, dropping off packages in between transporting passengers. In Ford's future scenario, people are freed up to focus less on the logistics of making deliveries and can turn their time and effort to 'things that really need their attention'.
Ford says that a two-legged robot designed and built by Agility Robotics – called Digit – could present a solution. Ford says it is made of lightweight material and is capable of lifting packages that weigh up to 40 pounds and that it can go up and down stairs, walk 'naturally' through uneven terrain, and even react to things like being bumped without losing its balance and falling over.
Digit's design also allows it to tightly fold itself up for easy storage in the back of a self-driving vehicle until it's called into action. Once a self-driving car arrives at its destination, Digit can be deployed to grab a package from the vehicle and carry out the final step in the delivery process.
When a self-driving vehicle brings Digit to its final destination, the vehicle can wirelessly deliver all the information it needs, including the best pathway to the front door. Through this data exchange, Digit can work collaboratively with a vehicle to situate itself and begin making its delivery.
Outfitted with a LiDAR and a few stereo cameras, Digit itself has just enough sensory power to navigate through basic scenarios, it is claimed. If it encounters an unexpected obstacle, it can send an image back to the vehicle and have the vehicle configure a solution. The car could even send that information into the cloud and request help from other systems to enable Digit to navigate, providing multiple levels of assistance that help keep the robot light and nimble.
Ford maintains that through its collaboration with Agility, it is striving to determine 'the best way for our self-driving vehicles to cooperate with Digit and understand how this new delivery method can be taken advantage of in the future'.