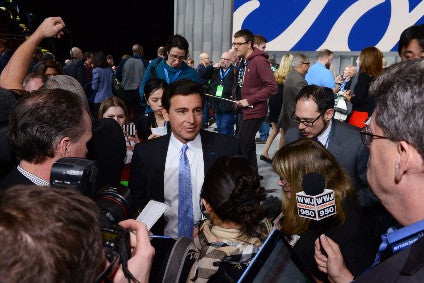 As speculation swirls over the incoming US president-elect's administration's policies on international trade, Ford CEO Mark Fields has told just-auto that he expects the 'right policies' to be pursued in areas such as tariffs.
President-elect Donald Trump voiced protectionist sentiment during his election campaign and said that he would impose 35% import tariffs on car imports from Mexico, targeting manufacturers such as Ford who have taken advantage of NAFTA to source low-cost imports to the US. Ford has said that it will move small car production in North America to Mexico while also adding investment in other models at its US plants.
Speaking on the sidelines of the new Ford Fiesta launch in Cologne, Fields said that he anticipates a change in direction from Trump when he is governing rather than campaigning.
"Now that the election is over they are going to focus on governing," he said. "We believe that the right policies will be implemented because we all have the same objective in mind, which is to make sure that the US is strong and that the economy is strong.
"We'll work together with the president-elect and his administration."
Fields also stressed the importance of NAFTA to a global manufacturing company such as Ford.
"We are a global manufacturer, it is important to us. NAFTA has been important to us," he said. "We have always been very consistent in supporting free trade and we think that strengthens all the countries that trade with each other and that includes the US. Our commitment to invest in the US is stronger than it has ever been. We have created 28,000 jobs [in the US] in the past five years and we are very proud of the fact that we are the number one employer of hourly workers in the US and produce more vehicles in the US than anyone else."
Fields also highlighted the importance of the Ford Fiesta model to the company.
"Ford Fiesta is critically important," he maintains. "The B-segment is still one of the largest segments around the world, especially in Europe. Our business is back on a solid footing and I think this is going to take us to the next level."