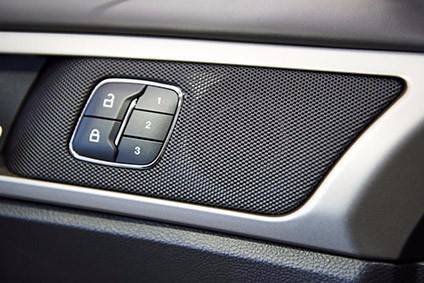 Ford's European unit is using active noise control in its Mondeo Vignale [US readers, a poshed-up Fusion] with three microphones strategically placed in the cabin, to detect undesirable noises from the engine and transmission. The system counteracts those noises with opposing sound waves from the audio system – without affecting volume levels of music and conversation. Driver and vehicle behaviour is recorded and anticipated, for example when a driver is accelerating in a lower gear.
The new European flagship model also has acoustic glass that can improve the sound-proofing qualities of the windscreen and front windows. Containing a layer of acoustic film thinner than a human hair, this reduces the intrusion of wind noise caused by air flow around the window pillars.
By using foam, rather than fibreglass, for engine bay insulation, the Vignale achieves a reduction in powertrain noise transferred to the cabin of up to 2 dB. Sound-proofing within the underbody shields, wheel arch liners and front and rear doors block tyre noise, and the new integral link rear suspension also contributes to a reduction in road noise experienced of up to 3 dB.
Testing by the newly established global vehicle harmony team ensures all sounds in the cabin, interior illumination, and the feel of surfaces are appropriate and complementary – from the sound made by the indicators, to that which is made when the heated rear window switch is depressed.
The Sony audio system includes a customised stereo mode and a true surround experience.
With 12 speakers and a DSP (digital signal processing) amplifier, the audio system Class D amplifier, with 10 independent channels, is built for efficiency. It is smaller and requires less power from the car's electrical system than conventional amplifiers. Additionally, it offers features such as stereo and surround DSP modes, and speed sensitive volume control.
The speakers have been optimised to create exceptional linearity and tonal balance. Low and midrange speakers make extensive use of polypropylene material claimed to provide stable performance over the life of the vehicle in a way that even the best fibre material cannot. The multi-layer soft dome tweeters provide crisp and clean high frequency sound.
The Mondeo Vignale is produced at Ford's Valencia plant in Spain and hand finished at the Vignale Centre, where vehicles are subjected to 100 additional tests.
Ford has recently introduced an industry-first test that reflects increasing use of audio streamed via Bluetooth from external devices such as smartphones. A full register of musical notes played through the speakers via the auxiliary port and a wired connection ensures that playback meets the same customer expectations as audio enjoyed through the system's own CD player and radio.