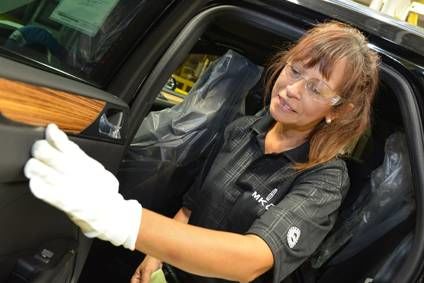 Investment in plants, products and jobs reportedly are a cornerstone of the new four-year UAW agreement with Ford that will now go to the workers for ratification.
The Detroit Free Press said the tentative agreement, approved by the UAW Ford national council this week, contains US$9bn in planned investment in US plants which creates or retains 8,500 jobs while allowing Ford to pursue its five-year product plan. Of that, $4.8bn goes to 11 facilities in Michigan alone.
The Ford bargaining team said it saved two plants slated to close while guaranteeing future products for others.
"To me, this contract has real job security," UAW vice president Jimmy Settles told the Free Press. "When they invest in plants, plants stay open."
The gains are part of an agreement reached last Friday that would deliver $10,000 upon signing and includes other bonuses, raises, profit sharing, better health care, an eight-year progression for entry-level workers to the traditional wage scale, and some money for retirees.
While some workers said they were still not satisfied, Settles told the paper he was confident the new agreement would be ratified.
"I think good people, given the proper information and the proper facts, will make the right decision," Settles told the Free Press. "I know everybody wants everything back that they gave up. But I think when people look at it, they see that when that happens, we lose jobs."
Settles said each of the local Ford units would decide when to hold information meetings and ratification votes and local leaders were in the process of scheduling voting times.
If the pact is ratified, 353 workers will immediately be moved to the top wage scale. That means almost 1,300 workers will have been boosted to the top rate since the start of the year.
"Anybody hired as of 23 October, 2011, will be making the traditional wage – the top wage – if this contract is ratified," Settles said.
But a priority was jobs, especially since Ford announced earlier this year that production of the Focus and C-Max was leaving the US.
Production of the revived Bronco SUV was expected to start after the also-revived Ranger compact pickup truck and no later than 2020, according to a person briefed on the agreement who spoke privately to the Free Press. The Ranger for North America was discontinued in 2011 when Ford closed the plant in Minnesota — something the union fought.
"We thought there was a market for that and it was lost," Settles said. He is excited Michigan Assembly now will gain a product.
In addition to the guarantee of work for Michigan Assembly, new future products are promised for the Chicago and Ohio assembly plants and many of the engine and transmission plants have new work coming over the length of the contract. To add nine- and 10-speed transmissions in the future, Ford is spending $3.35bn at three transmission plants alone.
The deal saved a stamping plant in Woodhaven with about 71 employees that was slated to close in 2016. Woodhaven would be converted into a hot metal forming plant with a $300m spend which will enable it to work with alternative metals in the future.
Settles told the paper the Romeo engine plant was also slated to close in 2016. Under the new agreement, Romeo gets $150m to continue to make V8 engines, add a new displacement engine for the new Super Duty pickups, and add some other machining work.
Chicago could get the Lincoln MKC after the current Taurus is phased out and Ford has promised shifting the MKC will not reduce employment at Louisville Assembly which will be busy making the popular Ford Escape.
"Whatever happens in Louisville it will not lose employment," Settles told the Free Press. "They cannot make enough Escapes."
Now that the national council has approved the agreement it will be sent to the union's 52,900 Ford members for ratification in a voting process that is expected to take at least a week.
Ford workers will be eligible for about $8,500 in signing bonuses as well as other goodies including profit sharing, a $1,500 annual inflation protection bonus and possible $250 annual competitiveness bonus. Additionally, $1,500 in profit sharing would be pulled ahead so that workers would get a tidy $10,000 upon ratification, the paper said.
The agreement also includes many other details such as retirement and signing bonuses, wage rises, an agreed path to full wages and a better deal for temporary workers.
The Free Press noted the Ford agreement is the third national contract the UAW has reached this year with the Detroit Three. An agreement reached last month with Fiat Chrysler Automobiles was ratified last month. An agreement with General Motors was ratified by production workers but rejected by skilled trades workers.
The UAW is also holding meetings at plants across the country to determine why 59.5% of GM's skilled trades workers voted no while 58.3% of production workers voted in favour.