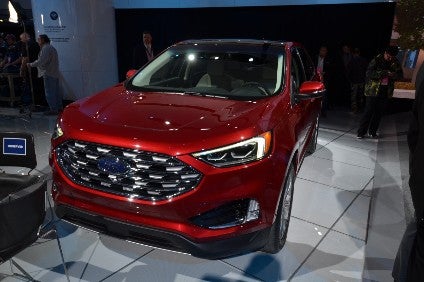 Ford has detailed plans to "improve operational fitness, refocus capital allocation" and speed the introduction of smart vehicles and services.
Presenting at the Deutsche Bank Global Auto Industry Conference in Detroit, the company provided preliminary results for full year 2017, issued guidance for 2018 and outlined plans to accelerate investment in electric vehicles and sport utility vehicles.
"In 2017, F-Series extended its streak as America's best-selling pickup for the 41st straight year, we set a new company high for US SUV sales and Lincoln had its best year since the turn of the millennium thanks to accelerated growth in China," said global markets chief Jim Farley.
"We have a rock solid foundation and we have seen growth in key areas, but we know we must evolve to be even more competitive, and narrow our full line of nameplates in all markets, to a more focused lineup that delivers stronger, more profitable growth, with better returns."
CFO Bob Shanks said Ford was working rapidly to "improve its operational fitness" and reallocate capital to higher return projects expected to fuel profitable growth
"Since we reinstated a dividend in 2012, we have generated $31bn in cumulative automotive cash flow and returned $15.4bn to shareholders via dividends and share repurchase," he said Bob Shanks, executive vice president and chief financial officer.
"Notwithstanding this discipline of returning value to shareholders, we know we can better capture opportunities for growth, profitability and liquidity."
Further detailing initiatives first outlined at a presentation to analysts last autumn, including changes to products currently in production and improving the efficiency of the business, Ford said it was reducing the number of orderable combinations of the Escape, Fusion and EcoSport SUVs from thousands, to just 10 to 20 combinations for each vehicle.
"This will improve costs by reducing manufacturing expense, lowering inventory and logistics expense and improve quality, while growing revenue by ensuring customers can get what they want faster and at the dealer of their choosing," the automaker said.
The company said it would continue to pursue partnerships, alliances, and acquisitions as a key component to enhance its competitiveness where so doing provides access to technology and capabilities that will enhance its competitive position, including with Mahindra in India and Zotye in China to develop vehicles and services uniquely suited to compete in those markets.
Ford also said it would shift towards a lower volume passenger car range in North America and Europe while competing in more profitable sub segments of the utilities market, as demonstrated by vehicles such as the additional Edge ST variant and the upcoming revived Bronco.
In North America, over the next couple of years, Ford's SUV mix will increase 10 percentage points while its car portfolio will shrink about 10 percentage points.
Ford also will expand its electrified vehicle lineup with 40 vehicles globally which will include 16 full battery electric vehicles by 2022. To support this, the company announced it now plans to spend $11bn in electrification from 2015 to 2022. The company also reiterated that it was on track to deliver a full battery electric performance SUV that offers at least a 300 mile range, for launch in 2020.
"We are actively evolving our position to be more competitive," Farley said. "At the highest level, we need to narrow our full lineup of nameplates to a more focused lineup that delivers stronger growth, less risk and better returns. We are repositioning the company to offer best in class, human centred vehicles and mobility services. That's our vision."
Ford also is focused on building an autonomous vehicle business, including a purpose built vehicle, the self-driving technology and the operational infrastructure in parallel, which will allow it to scale quickly as it enters production in 2021. Collaborations with Dominos, Lyft and Postmates will help validate its self-driving services business beginning this quarter though a series of pilot programs in a new city to be identified soon.
2017 Preliminary Results and 2018 Guidance
For full year 2017, the company announced preliminary results of US$1.95 EPS, an increase of 80 cents from a year ago, and adjusted EPS of $1.78, an increase of 2c from a year ago and in line with the company's most recent guidance. The company also expects to end the year with a strong balance sheet with automotive cash of $26.5bn and automotive liquidity of nearly $37bn.
The 2017 results will also include the impact of a non-cash pre-tax remeasurement loss of about $150m related to the year end revaluation of global pension and other post retirement employee benefits (OPEB) plans, also known as pension mark to market adjustment.
Directors declared a first quarter regular dividend of $0.15 per share and a $500m supplemental cash dividend that is equal to $0.13 per share. This provides a combined total of $0.28 per share of dividends on the company's outstanding Class B and common stock.
The first quarter regular dividend maintains the same level as the dividends paid in 2017. The first quarter regular and supplemental dividends are payable on 1 March, 2018. Subject to board approval, the company expects to make distributions totaling about $3.1bn in 2018. By year end, cumulative distributions to shareholders will total more than $18bn since the company's regular dividend was restored in 2012.
For 2018, the company is guiding to an adjusted EPS in the range of $1.45 to $1.70. This reflects higher commodity costs and further adverse exchange, offset in varying degrees by actions the company is taking to mitigate their effect.