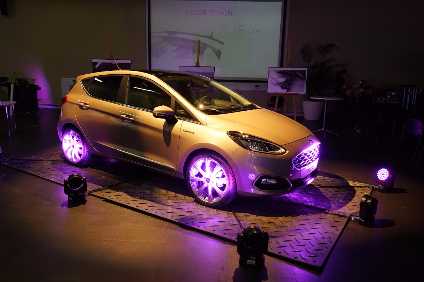 In what it says is an initiative to drive air quality improvement across Britain, Ford UK is introducing a scrappage scheme for pre-2010 registered vehicles that applies to all makes and can get customers up to GBP7,000 off new Fords.
The Ford scheme applies to both petrol and diesel engine cars registered up to and including 31st December 2009 (pre Euro 5) against selection of latest generation Euro 6 petrol and diesel models, including Transit Custom.
Ford claims that replacing the UK's population of old petrol and diesel cars alone could save 15 million tons of CO2 annually – and drastically reduce other pollutants.
Ford says that unlike incentive schemes introduced by other manufacturers, the Ford scheme includes vans, and actually scraps all the trade-in vehicles.
Under the scheme, eligible consumers benefit from a scrappage incentive of between GBP2,000 and GBP7,000 and the program will run to the end of the year (it is effective for registrations from September 1st to December 31st 2017).
"Ford shares society's concerns over air quality", said Andy Barratt, chairman and MD of Ford of Britain. "Removing generations of the most polluting vehicles will have the most immediate positive effect on air quality, and this Ford scrappage scheme aims to do just that.
"We don't believe incentivising sales of new cars goes far enough and we will ensure that all trade-in vehicles are scrapped. Acting together we can take hundreds of thousands of the dirtiest cars off our roads and out of our cities."
All new Ford EcoBoost petrol and EcoBlue diesel models meet the Euro 6 standard.
Data from the SMMT shows that there are approximately 19.3m pre-Euro 5 emission level passenger cars on the UK roads today and reducing that number, through scrappage programs, would have the effect of reducing CO2 by 15million tons per year, equivalent to the annual output of approximately three coal-fired power stations.
Ford says that its medium- to longer-term actions to improve air quality include a plug-in hybrid version of the Ford Transit Custom, due to start trials later this year. The Transit PHEV is planned for commercial introduction in 2019 and is part of Ford's total investment of USD4.5bn in electrified vehicles by 2020, which also includes a fully electric, long-range SUV.