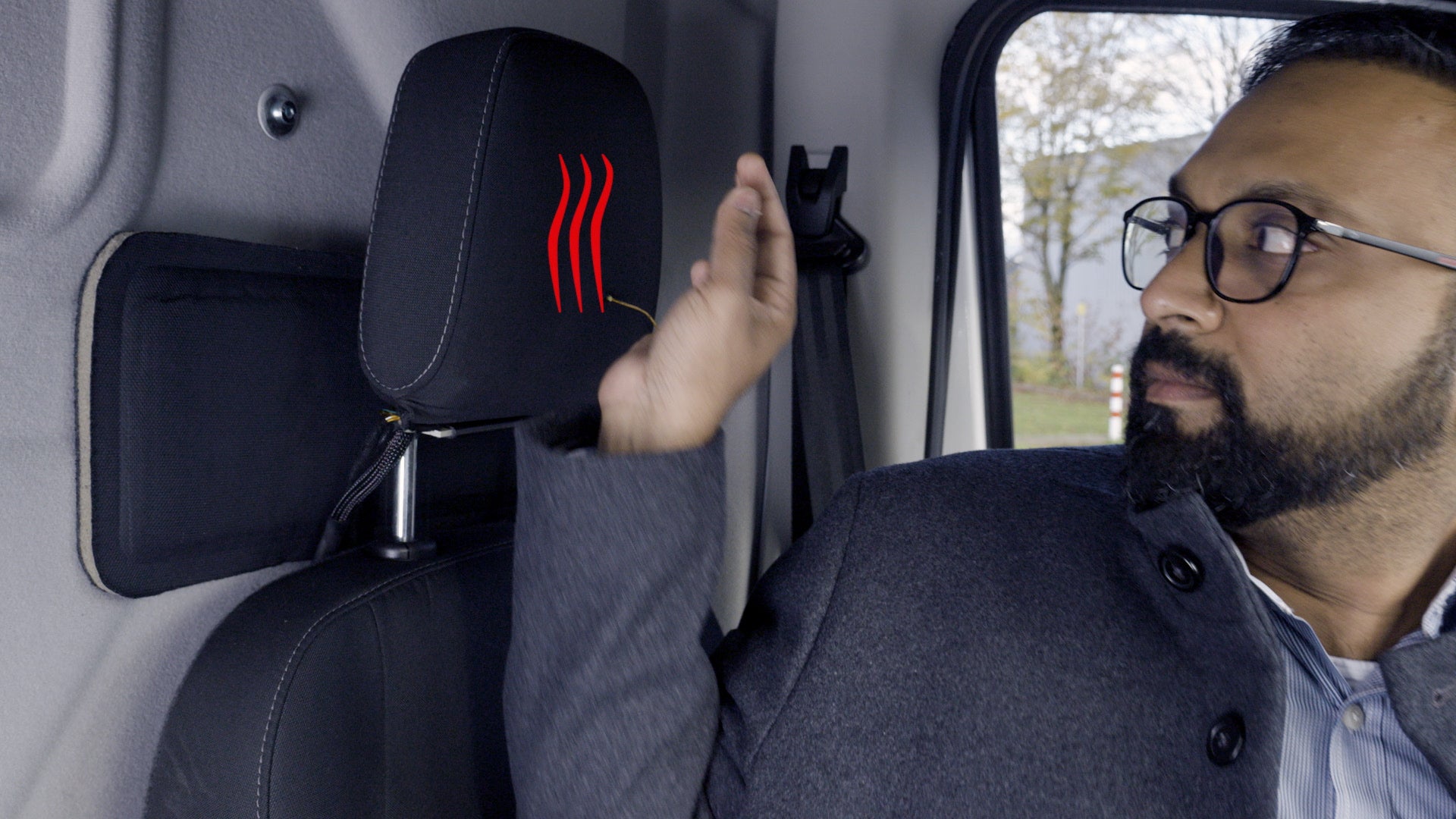 Ford of Europe engineers have found heating surfaces in electric vehicles, such as mats and door panels – rather than using HVAC – could help extend range, offering drivers 5% extra range on a typical charge compared with using HVAC, heat from which is more easily lost when windows or doors are opened.
Heated surfaces were tested in an electric E-Transit van on delivery routes where drivers may open and close the doors hundreds of times a day.
Engineers also identified opportunities to extend range, reduce energy consumption through 'eco routing', cooling system modifications and powertrain conditioning.
Heated surfaces can be those with which occupants come into direct contact, or they could be panels that radiate heat towards the driver and passengers (Lexus is introducing infrared radiation).
Both require battery power, but Ford discovered energy consumption for cabin heating could be reduced by 13% compared to standard HAC and could extend EV range by 5% for a typical charge. The difference that could add up to hundreds of extra kilometres annually.
"We all know that if the doors or windows are opened when it is colder outside, the temperature inside a vehicle drops. This is especially true for delivery vans as drivers make frequent drop offs and the heat generated via aircon is lost more quickly, while heated surfaces stay warm," said Markus Espig, systems engineer, propulsion systems engineering, at the Ford Research and Innovation Centre Europe. "Reducing energy use not only improves range, it also cuts costs and helps ensure that the way we travel is more sustainable."
The research was conducted as part of the European Commission's Connected Electric Vehicle Optimised for Life, Value, Efficiency and Range project (CEVOLVER) project that ran from October 2018 to October 2022. The project was designed to inform how new EVs are built and help create software updates for EVs already on the road. Results from the heat management testing have fed into Ford's development of future vehicles.
By 2026, Ford in Europe plans to sell 600,000 EVs annually, supporting the global goal of two million-plus annual production of EVs, also by 2026.
How the test worked
Engineers fitted out an all-electric E-Transit with heated armrests, floor mats, door panels, sun visors and a panel below the steering wheel The test involved parcel deliveries, special goods deliveries and a tradesman's one day job 350km away, on roads in and around Cologne, Germany. The testing took place in winter and summer, on dry and wet roads, and in heavy rain and wind.
The research also showed that changes to weather, traffic and road conditions can affect range. Incorporating this data into the range calculator could help to predict range more accurately in real time. For commercial vehicles, this aggregated driving data could be used as a 'fleet range predictor', to estimate the energy demand for a specific route.
Further technologies tested by Ford engineers that could offer significant energy-saving and time-saving improvements included:
A heat exchanger that takes heat waste from the electric drive unit and uses it to heat the cabin and/or the battery pack
A battery cooling system that enables efficient cooling and pre-conditioning of the battery pack
Eco-routing in combination with assured charging calculates the optimal route, including the charging stops, to get the most out of the vehicle's range
Smart fast charging pre-cools or pre-heats the battery before the next fast-charging event
Powertrain conditioning function keeps the components of the electric drive unit at the most energy-optimal temperature
The CEVOLVER research also follows testing by Ford into how energy consumption can be reduced on EVs, such as by using interior lighting to make the cabin feel cooler or warmer. Advanced energy-saving technology coming on future Ford electric vehicles includes the vapour-injected heat pump on the new electric E-Transit Custom.
As well as developing future range-boosting technologies, Ford already offers a range of useful features to maximise the efficiency of its current electric vehicles. The Mustang Mach‑E and E‑Transit offer ccheduled pre-conditioning to remotely optimise the cabin and battery temperature while still on charge before departure. The vehicle will assess the weather conditions to decide how much power is needed to bring them to temperature before a departure time preset by the owner. The automaker estimates that a half-laden E-Transit in an external temperature of 0C will retain 75% of its range if preconditioned, compared to 66% if used without.
Ford electric vehicles also offer selectable drive modes to reduce energy demand for increased range, as well as the ability to recapture energy while braking.