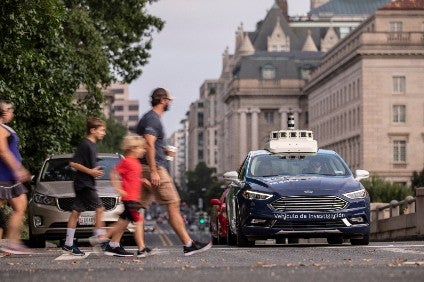 Ford plans to spend more on self-driving vehicles than its original commitment of US$4bn to the end of 2023, Jim Farley, president, new business, technology and strategy, wrote in a blog post.
"We… aren't joining the race to see which company is spending the most, as that isn't an indicator of doing things right. …We don't believe spending is the measure that will be meaningful to our customers and the communities in which we will operate our self-driving services," he said.
"Unlocking the future is easier said than done, of course. And specifically, determining how customers will want to incorporate self-driving services into their rapidly diversifying transportation ecosystems is one of the biggest bets we are making as a company. Some may find it interesting that we are thinking about our work in this space very differently from others developing self-driving technology.
"Ford is focused on how we can provide potential customers with the services that self-driving vehicles can unlock, without falling into the hype race around launch timing and scale.
"Make no mistake: Ford continues to plan for initial commercialisation of a self-driving service in 2021, with a focus on building to scale after launch.
"But to have a successful and sustainable service in the autonomous vehicle space, we need to build an entire business that's scalable – the vehicle is just one part of the broader picture.
"In addition to building a vehicle, it is crucial we understand the customer experience, self driving technology and vehicle operations.
"In fact, these two items showcase the Ford difference. While most others are focusing on the tech race, our team is focused on the customer. Some might even call us obsessed and we're okay with that. We believe amazing customer experiences are the #1 priority among the four deliverables we believe are essential to building a successful, sustainable and, importantly, a scalable business.
"These four include:
The customer experience must be exceptional to help ensure the self-driving services we deliver are services that people want and value.
The self-driving system, or the technology that underpins and actually operates a driverless car, must be robust and able to operate in a safe and secure way while delivering a comfortable ride experience. You can read more here about how we're working with Argo AI to deploy self-driving technology.
Our vehicle operations have to be localized and highly experienced, allowing us to expertly conduct our services.
And of course, the vehicle itself remains crucial in delivering differentiated customer experiences — it needs to be durable enough to be utilized at high rates and provide a consistent ride over the lifetime of the vehicle.
"We believe these four factors not only will allow us to provide great customer experiences, but they are required to build a strong business that is scalable from the start. Each is essential, but delivering on the customer experience is our top priority.
"Consumers are already telling us a lot. In all three of our launch markets — Miami-Dade County, Washington, D.C. and Austin, Texas — we've gained lots of critical insight into what attributes will be essential to our customers in future self-driving services.
"We're finding that the potential area of operation for self-driving vehicles is very different from what was initially believed. We thought most deliveries would be made near downtown areas, close to restaurants and other businesses. But orders are frequently coming into businesses from outside densely populated neighbourhoods — meaning that while they may originate downtown, their final destinations are in more suburban areas. That changes not only our perception of who the customer is, but also the way we geofence areas for self-driving technology.
"Since our self-driving services also will transport people, we're working hard to ensure we deliver on this experience as well. That includes everything from determining the most seamless and secure way to authenticate riders and unlock doors for the right people all the way to an in vehicle experience featuring comfortable seating, inviting interior spaces and other amenities to make rides enjoyable. We are also building call centres to handle customer contacts and concerns – before, during and after a ride – to ensure we are responding to people's needs and providing a consistent experience."
Farley said experience with Ford's electric scooter company Spin is enabling it to learn a great deal about what people want from a new mobility service ranging from how to best reach people and develop the right digital interface, to making sure that using the service is easy and fun.
"As we look to build a scalable self-driving vehicle business, we will continue to follow our customers' lead. We're thinking holistically and building every part of our service to be scalable at launch, giving us the ability to expand our service quickly – and, most importantly, deliver customer experiences that people want and value."