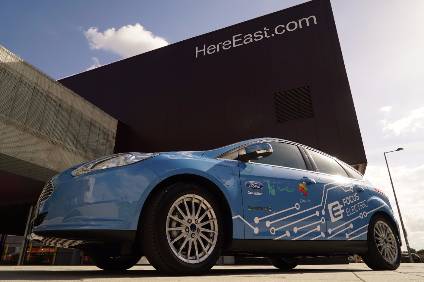 Ford has announced it will open a dedicated Ford Smart Mobility Innovation Office in London focusing on future mobility solutions for Europe.
The company says the new office will give a dedicated team of highly skilled Ford specialists easy access to world-class digital companies, leading academic institutions and existing partners as it targets the near term development of smart mobility solutions that meet the needs of Europe's major cities.
"Basing our rapidly growing team here in the heart of mobility innovation in London is critical to accelerating our learning and development of new technologies. The location at 'Here East' will allow us greater collaboration and the out-of-the-box thinking needed to tackle the urban transport challenges of tomorrow," said Steven Armstrong, group vice president and president of Europe, Middle East and Africa, Ford Motor Company, at the opening of London Tech Week.
"We will also be ideally placed to build on existing partner projects and have access to London's world-class digital talent. Both will be key as we build towards our ambition of being a global leader in mobility solutions"
The new office located on the Here East Campus, Queen Elizabeth Olympic Park, will have an initial capacity for around 40 specialists and is set to open later this year. The London location allows Ford close proximity to its existing cutting edge trials in London including the plug-in hybrid Transit fleet project launching later this year. The Olympic Park's unique private road network may also be utilised for testing in the future.
Gavin Pool, CEO, Here East said: "Here East is unique in providing the space and infrastructure for entrepreneurs, global businesses and academics to come together and collaborate in the pursuit of innovation. Ford's decision to join our community of innovators, start-ups and tech specialists as part of its drive to find smarter urban mobility solutions is an exciting development for the entire campus."
The campus is already home to Loughborough University, one of Ford's longest standing and most significant UK university research partners, as well as the Advanced Propulsion Centre (APC), which Ford has worked with on powertrain research and this year the plug-in hybrid Transit development. Other tenants include the brand new Plexal Innovation Centre and UCL Robotics.
The new London office joins Ford Smart Mobility's existing offices in Dearborn and Palo Alto and also complements Ford's global network of research and innovation centres, including RIC Aachen in Germany.