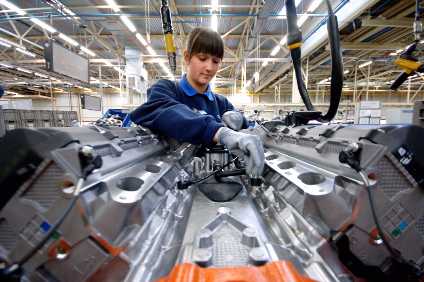 Ford may have to cut the workforce at its Bridgend engine plant in Wales, UK, with as many as 1,160 jobs lost by 2020 according to documents seen by the BBC.
The jobs are under threat because Ford will no longer make its Sigma engine at the plant while a legacy contract to supply Jaguar Land Rover also runs out by 2020.
Although the factory will still produce the new Dragon engine, the workforce will have to be cut to around 600 unless new contracts can be found.
UK Prime Minister Theresa May said that the government was "in "dialogue" with Ford over how it could help. Ford did not comment on the document but said it could "fully understand" concern for the longer term.
May told Parliament: "Ford is an important investor. It has been established here for over 100 years. We now account for around a third of Ford's global engine production and Bridgend continues to be an important part of that."
The Welsh First Minister Carwyn Jones has told the BBC that reports of more than 1,000 job losses at the engine plant were "a worst case scenario".
Ford currently manufactures 655,000 engines in Bridgend but the contracts for these are coming to an end and there is only guaranteed work for 125,000 in future. The BBC reported that the leaked document said the plant is under-performing in comparison to similar sites, including at the carmaker's UK diesel engine factory in Dagenham, Essex.
The BBC noted that overtime levels at Bridgend are more than double Dagenham's rates, which adds 6% to the cost of the engines produced. It attributes this to absence, non-performance and work practices including paying staff allowances they are not entitled to and regular job rotation.
The Unite union called on Ford to provide "cast iron" legal guarantees over the plant's long term future. It said that meetings with the company confirmed that the carmaker does not have a replacement business plan for the Jaguar engine which will cease production at Bridgend by 2020.
A spokesman said the current Sigma engine production of 511,000 a year is set to be replaced by the Dragon engine of which Unite understands Ford is planning to produce 125,000 a year.
See also: Ford's Bridgend engine plant – the anatomy of its decline