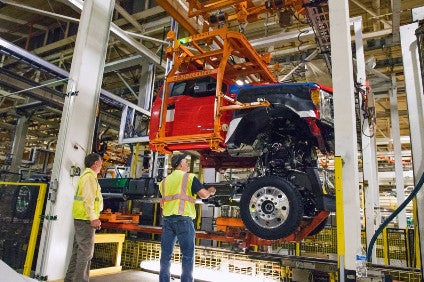 Ford reportedly has temporarily laid off 130 workers at its plant in Avon Lake, Ohio, jobs which, US media said, it had hoped to preserve by moving production there from Mexico in 2015.
Bloomberg News, citing a Ford spokeswoman, said the automaker was reducing shifts at the truck plant to one to match falling output with slower customer demand.
Combined sales by the 'Detroit Three' automakers took the biggest hit in April with combined sales down 6.5% for a loss of nearly a full percentage point of market share. Ford's 7.1% deficit was the largest and reflected a 10.5% decline in retail volume. Year to date Ford brand sales were down 5.1%.
Bloomberg said the layoffs extend a pattern of widespread shutdowns planned for the summer as carmakers adjust to the US auto market's recent slowdown following seven years of gains, even as President Donald Trump paints a more upbeat picture.
"Even though incentives are up, you're seeing some production being taken out," Mark Wakefield, managing director and head of the automotive practice at consultant AlixPartners, told Bloomberg. "That shows some people are not assuming this is a speed bump or a plateau and there's things to be adjusted."
In 2014, Ford announced a US$168m investment to shift production of F-650 and F-750 from Mexico to Ohio Assembly Plant, in addition to adding new body shop equipment and other tooling needed to produce the medium-duty vehicles in a plant that previously made the E-series van, since largely replaced by US-specific versions of the UK designed Transit. The shift from Mexico was part of the [since superseded] collective bargaining agreement the automaker and the United Auto Workers negotiated in 2011.
Bloomberg noted Ford had used the decision to deflect criticism from Trump during the US presidential campaign when he sharply criticised the automaker's decision to move production south of the border. Ford since announced it had scrapped plans for the $1.6bn small car Mexico facility and would build the Focus in an existing plant there.
There is an upside – according to the report, Ford's spokeswoman said the furloughed employees are expected to return to work next autumn when Ford begins building redesigned versions of the trucks.
Bloomberg noted that, when Ford said in 2014 it was bringing the trucks back to the US, demand for the large commercial vehicles was booming. The automaker began building F-650s and F-750s, commonly bodied as dump trucks, tow trucks and furniture vans, after a joint venture in Mexico with Navistar International disbanded.
Sales of Ford's heavy trucks fell 20.2% in April and are down 10.7% this year to 5,016 vehicles, the company said this week, Bloomberg added.