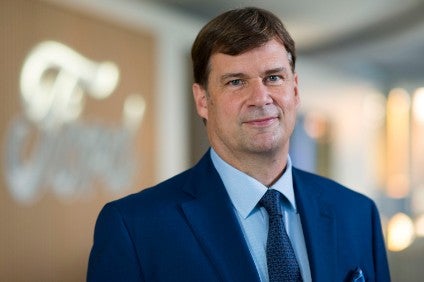 Ford revenue, net income, adjusted earnings before interest and taxes, cash flow
from operations, and adjusted free cash flow were all sharply higher from the second to the third quarter of 2021, as semiconductor availability improved and wholesale
vehicle shipments rose, compared with Q2.
Third quarter revenue of $35.7bn nonetheless was down moderately from the same quarter ($37.5bn) a year ago.
"Semiconductor availability remains a challenge, but markedly improved from the second quarter, propelling sequential increases in wholesale shipments and revenue of 32% and 33%, respectively," the automaker said in a statement.
Adjusted EBIT was $3bn ($3.6bn), with an adjusted EBIT margin of 8.4% (9.7%).
The improvement in semiconductor supplies in North America in the third quarter helped lift regional product shipments 67% from Q2 2021, boosting EBIT margin to 10.1%, down 2.5% year on year.
For the first three quarters of 2021, North America's EBIT margin was 9% (up 4.5%), approaching the full-year 2023 regional target of 10%.
Ford president and CEO Jim Farley claimed the automaker was "spring loaded" for growth in North America as semiconductor volume increased with a 50% sequential rise in orders – to 100,000 – for vehicles already on the market, excluding the Bronco.
Europe EBIT adjusted was a loss of $52m, down from $392m a year ago. Ford said it was working "to deliver a 6% EBIT margin by 2023"; Q3 fell 6.9% to negative 0.9%.
China, "progressing with its own turnaround" dropped from $18m EBIT a year ago to a $39m loss.
Ford's board voted to reinstate a regular quarterly dividend of 10 cents pare share starting in Q4.
Ford said expectations for fourth-quarter adjusted EBIT "assume an increase in wholesale shipments from the third quarter, combined with a continued healthy mix of vehicles sold and net pricing, and continued strong, but sequentially somewhat lower, results from Ford Credit."
The company's guidance for full-year 2021 adjusted EBIT is between $10.5bn and $11.5bn.
Ford typically does not provide next-year financial guidance in October and won't do
so at this point for 2022.