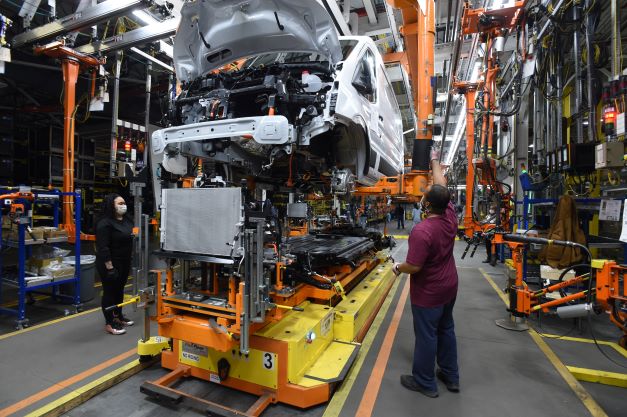 Ford E-Transit, the electric version of America's claimed best-selling commercial van and the first of two all-electric vehicles purpose-built for Ford Pro US commercial customers, is now shipping across the US.
The new model has already attracted over 10,000 orders from businesses of all sizes and the automaker is looking to increase production.
The EV van is produced at Kansas City Assembly Plant, the automaker's first US plant to assemble both batteries and EVs in-house.
Ford Pro is a global business and brand within Ford dedicated to vehicles for government and commercial customers.
The E-Transit is part of Ford's US$30bn investment in electrification through 2025 and follows the Mustang Mach-E. F-150 Lightning BEV pickup truck deliveries begin this spring.
By the end of 2023, Ford will have global capacity to produce 600,000 battery electric vehicles annually which includes 200,000-plus Mustang Mach-Es and 150,000 F-150 Lightnings. Ford is now working on ways to increase E-Transit production.
Demand for the BEV van is strong with 300 customers placing orders for 10,000 units.
To build it, Ford spent $100m in Kansas City and added 150 full-time jobs for vehicle and battery pack assembly.
E-Transit options include Pro Power Onboard which turns the vehicle into a mobile generator with up to 2.4 kilowatts of power.
Ford Pro Charging is said to be the only North American provider which combines light-duty commercial electric vehicles, chargers, with a single source for design and build services and OEM-grade telematics into one product to fit fleet and driver needs, including home, public and depot charging.
New Ford Pro Intelligence subscription services such as E-Telematics can be accessed by activating the standard 4G LTE modem. E-Telematics – complimentary for three years – is designed to help maximise run time with scheduled preconditioning when vehicles are connected to the grid, allowing drivers to bring the cabin to a desired temperature when still plugged in, helping preserve battery charge for use on the road.
Ford claims the E-Transit is the only all-electric cargo van from a full-line automaker available (in the US) in eight different configurations.