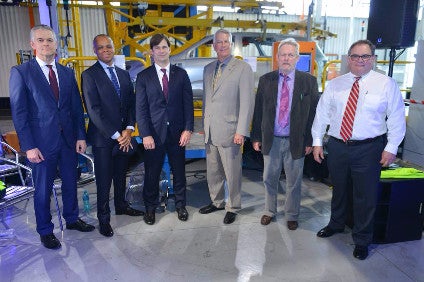 Ford said it would spend R2.5bn (US$170m) to expand its Silverton assembly plant in Pretoria, South Africa, to produce the redesigned Everest, an SV derivative of the redesigned Ranger pickup truck launched at the end of 2015.
The project will create about 1,200 new jobs at the automaker and within its South African supplier network.
Jim Farley, Ford executive vice president and president of Europe, Middle East and Africa, said: "By producing the Everest in South Africa, we will be able to make it more readily available, and in a greater variety of models, for customers throughout Sub-Saharan Africa.
"The R2.5bn investment reaffirms the importance of these markets as part of our growth strategy across the Middle East and Africa," Farley added. "It further reinforces South Africa's position as a strategic export base [us]."
Silverton joins AutoAlliance Thailand in Rayong; the Chennai plant in India (where the SUV is sold as the Endeavor) and the JMC Xiaolan Plant in Nanchang, China, as production hubs for the Everest. Silverton production will commence in the third quarter of 2016 with the first units on sale in the fourth quarter. South African-produced models will be sold locally and exported to markets across sub-Sahara Africa.
Some of the spend has been directed towards production of the latest Ranger which is already running at maximum capacity at Silverton – with domestic sales and export demand at a record high.
Silverton has automation utilising Ford's global manufacturing processes and will be equipped to produce 10,000 Everests annually.
Jeff Nemeth, president and CEO of Ford Motor Company Sub-Saharan Africa Region, said: "This crucial investment will enable us to increase volumes and expand the Everest range to eight derivatives across a broader price range. It will allow customers across sub-Sahara Africa to choose from two powerful engines mated to robust six-speed automatic or manual transmissions for exceptional capability."
Currently, the Everest is imported into South Africa from Thailand, using the locally produced 3.2-litre, five-cylinder Duratorq TDCi engine. It is only available in South Africa in 3.2 automatic form with two trim levels – XLT and Limited. With the commencement of local production, a 2.2-litre Duratorq TDCi four-cylinder diesel engine will be added to the range, along with a wider spread of specification levels.
Built at Ford's Struandale engine plant in Port Elizabeth, the latest Duratorq TDCi diesel engines – also used in the Ranger – offer maximum fuel economy along with exceptional performance, the automaker claims.
The Everest is a rugged seven-seat SUV featuring body-on-frame construction, intelligent four-wheel drive and an Advanced Terrain Management System to help navigate challenging terrain with ease. Originally designed for 'developing' markets, it was recently launched in Australia and New Zealand where the Ranger sells strongly.
In recent years, Africa has emerged as an increasingly important region for Ford, with continued investment and growth.
In 2008, Ford announced plans to build the Ranger at Silverton with a spend of R3.4bnwith the automaker transforming both South African plants into 'world class' facilities to produce the truck line and Duratorq TDCi engines for local sale and export.
The Ranger is exported to 148 countries in Africa, Middle East and Europe, while engines and machined components are supplied to Argentina, Thailand, North America, India and China.
In 2014, Ford formed the Middle East and Africa business unit comprising 67 markets to support the region with a dedicated focus and clear understanding of the unique conditions and customer needs.
African growth continued in 2015 when Ford confirmed it would assemble the Ford in Nigeria, using semi knock-down (SKD) kits and components imported from South Africa.
In 2015, Ford sold a record 78,471 passenger cars and light commercial vehicles in South Africa. The Ranger performed particularly well with an 18.1% year-on-year increase in sales and 33,920 sold.
"As we continue to grow our business here in South Africa we are committed to improving the skills of our employees and creating new opportunities within the company and the broader supply chain. It is only through the dedication and commitment of our work force, suppliers, dealers, union and government partners that we have been able to secure this investment and expand our operations, broadening our footprint in Africa even further," Nemeth said.
According to Bloomberg, the South African government's automotive-incentive programme has attracted companies such as Ford, BMW, and Volkswagen to set up factories and create jobs in the country, where unemployment is almost 25%. Exports of all cars and commercial vehicles will probably reach a record of 376,000 units this year, according to the National Association of Automobile Manufacturers of South Africa, even as the local market declines. Automakers are also preparing for an expected rise in demand in sub-Saharan Africa, boosted by improved road conditions and young populations with disposable income.