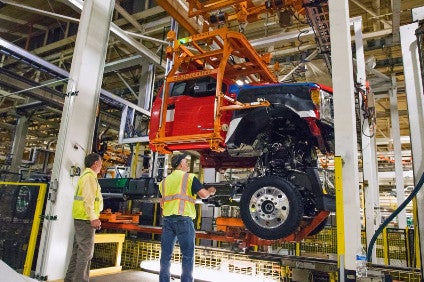 Ford announced on Tuesday it would spend US$1.6bn to upgrade two of its factories in Michigan and Ohio, creating or retaining 650 hourly jobs in the US.
The $1.4bn spend at the Livonia transmission plant and $200m at Ohio Assembly are part of the $9bn commitment the company made in the 2015 UAW-Ford collective bargaining agreement to continue investing in its US plants.
Ford has spent $12bn on its US plants and created nearly 28,000 US jobs in the past five years.
"We are proud that Ford employs more hourly workers and builds more vehicles in the United States than any other automaker," said Joe Hinrichs, Ford's president, The Americas, in a statement.
The $1.4bn creates or retains 500 hourly jobs at Livonia Transmission to build a new 10-speed gearbox to be first introduced in the F-150 Raptor pickup truck and other F-150 models. The $200m and 150 hourly workers at Ohio Assembly, in Avon Lake, will be used to build F-Series Super Duty chassis cab models.
Ford said it had "committed to 2,800 US jobs in the past five months" as well as 8,500 hourly jobs across the US during the next four years in Michigan, Illinois, Kentucky, Missouri, New York and Ohio.
"I am thrilled that through our collective bargaining with Ford we were able to secure a substantial investment for the communities of Southeast Michigan and Northeast Ohio," said Jimmy Settles, UAW vice president, National Ford Department.
Livonia Transmission employs 1,550 building a six-speed transmission used in Mustang, F-150, Transit and Expedition models. Ten-speed production begins in June. Ohio Assembly employs 1,650 people and began building F-350, F-450 and F-550 Super Duty chassis cab models earlier this year. The plant also produces the larger F-650 and F-750 "insourced" (transferred) from Mexico last year, plus E-Series cutaway vans and stripped chassis.
Ford and other US automakers are under pressure to cut vehicle production costs but have attracted criticism for transferring assembly to Mexico. Earlier this month, presidential candidate Donald Trump attacked Ford after it said it would boost its competitiveness by spending US$1.6bn on a new small car plant in in San Luis Potosi state, Mexico. Construction begins this summer and the new plant will create 2,800 additional direct jobs by 2020.
Ford countered by saying it had spent around $10.2bn on factories in the US alone in the last five years with additional spending including $2.7bn in facilities and supplier tooling at Valencia in Spain (following the closure of a plant in Belgium), $2.4bn in Germany and – with local joint venture partners – $4.8bn in China.
"All of these investments are part of the company's plan to serve global markets and deliver profitable growth," the automaker said.
But Trump labeled the move "an absolute disgrace", adding: "These ridiculous, job crushing transactions will not happen when I am president."