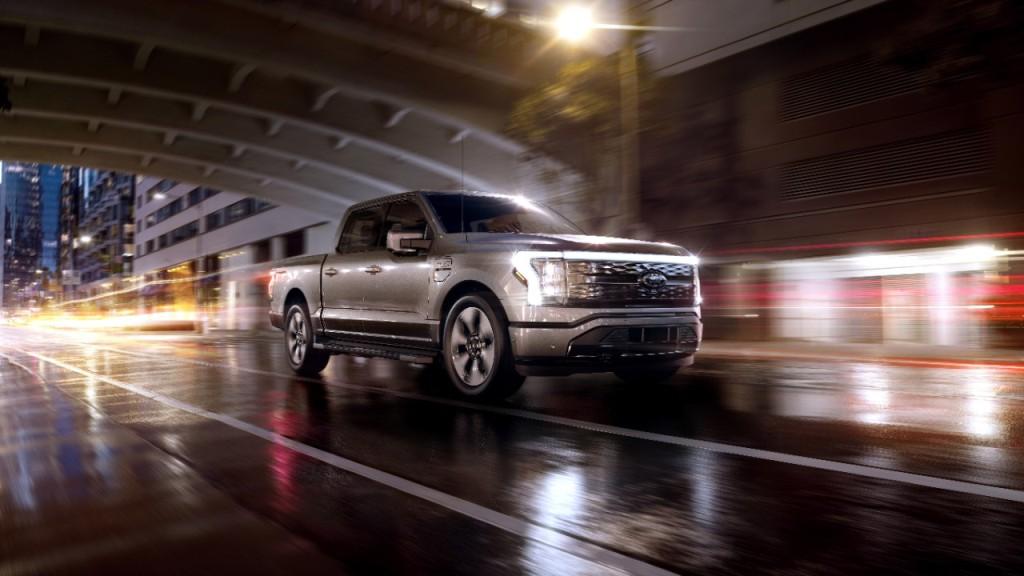 Ford has revealed the all-electric variant of its best selling pickup model – the F-150. The model will be built at a new high-tech facility at Ford's Rouge Complex in Dearborn, Michigan and Ford says it plans market launch in the spring of 2022.
The electric F-150 will be called the 'F-150 Lightning' and will come with an electric powertrain – dual in-board motors – delivering up to 563 horsepower and 775 lb.-ft. of torque – the most torque of any F-150 ever, Ford says. It will come with four-wheel drive as standard along with the all aluminium alloy body used on the combustion engine version, but with a new independent rear suspension and a new steel ladder frame described as using the 'strongest steel ever put in an F-150 frame'.
There's a claimed 0-60 mph time in the 'mid-4-second range' when equipped with the extended-range battery and Ford also says that on a 150-kilowatt DC fast charger, the extended-range F-150 Lightning is targeted to get up to 54 miles of range in 10 minutes and charge from 15% to 80% percent in about 41 minutes.
F-150 drivers will receive a FordPass notification if their truck's battery falls below one-third of its total range, and they can set the truck to stop using Pro Power Onboard if the battery level approaches the distance to the nearest charging station. In terms of lithium-ion battery capability, the F-150 Lightning offers two options: a 'standard-range battery targeting 230 miles of EPA-estimated range and an extended-range battery targeting 300 miles of EPA-estimated range'.
Ford says the F-150 Lightning offers intelligent features that improve over time via over-the-air software updates. The FordPass app provides seamless access to charging stations and remote vehicle controls while available 'BlueCruise' offers 'true hands-free driving on the highway'.
"For both Ford and the American auto industry, F-150 Lightning represents a defining moment as we progress toward a zero-emissions, digitally connected future," said Bill Ford, executive chair, Ford Motor Company. "F-Series is America's best-selling truck for 44 years, the backbone of work across the country, and a trusted icon for generations of customers. Now we are revolutionizing it for a new generation."
Ford also says the electric platform unlocks new capabilities as well, such as enough energy to power an entire home (there's a capability to offload 9.6 kilowatts of power to power home appliances) and a large lockable 'frunk' (front trunk that serves as engine bay on ICEs).
With Ford Intelligent Backup Power, enabled by the available 80-amp Ford Charge Station Pro and home management system Ford can help install, F-150 Lightning will automatically kick in to power the customer's house in the event of a power cut ('outtage'). Once power is restored, the truck automatically reverts to charging its battery. Based on an average 30kWh of use per day, Ford says the F-150 Lightning with extended-range battery provides full-home power for up to three days, or as long as 10 days if power is rationed, with results varying based on energy usage.
In the future, Ford says it will introduce Ford Intelligent Power, which can use the truck to power homes during high-cost, peak-energy hours while taking advantage of low-cost overnight rates to charge the vehicle in time for the customer's morning drive. This can help save money on electricity that powers your vehicle and home while also taking pressure off the grid in peak usage times, Ford maintains.
Ford is also teaming up with a solar power company, Sunrun, to facilitate 'easy installation' of the 80-amp Ford Charge Station Pro and home integration system. Through this collaboration, Ford says its customers will also have the opportunity to install solar energy on their home, enabling them to power their household with clean, affordable energy and charge their F-150 Lightning with the power of the sun.