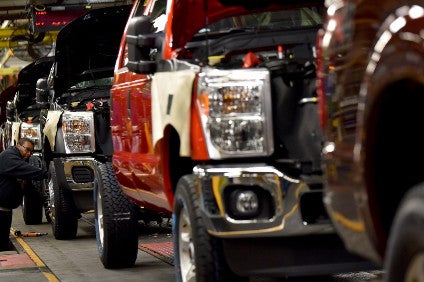 Ford said it would redistribute workers at several of its plants to meet rising demand for pickup trucks and large SUVs.
According to Reuters, the company would have to find new posts for 150 workers displaced by the changes but there won't be job cuts.
Nor would there be any new jobs.
Ford told the news agency it would shift 500 workers from one Kentucky plant making crossover vehicles to another that makes its best-selling F-Series pickup trucks, plus the Expedition and Lincoln Navigator, both large SUVs.
Ford also has a new midsize pickup, the Ranger, going on sale next year.
The automaker also told Reuters it would move 500 jobs to a Michigan plant making transmissions for popular pickup trucks from one nearby that will reduce production to one shift making Mustangs and the Lincoln Continental.
Ford said an additional 150 workers from the Mustang assembly plant at Flat Rock, Michigan, would receive job offers at other plants.
A company spokeswoman told Reuters Ford was "highly confident" jobs would be found for all those workers and there would be no job losses as a result of this reshuffling.
The United Auto Workers union, which represents hourly workers at Ford, said in a statement: "…after working with Ford, we are confident that all impacted employees will have the opportunity to work at nearby facilities".
Reuters noted sales of the Ford Expedition were up 4% in the first 10 months of 2018 while sales of the high-margin Lincoln Navigator soared nearly 81% in the same period.
Ford said in a statement earlier this week: "We've already taken actions to shift our vehicle portfolio to better meet our customers' needs going forward and strengthen our business, improving returns.
"This includes moving approximately 90% of our North American vehicle lineup volume to SUVs, pickup trucks and commercial vehicles between 2018 and by the end of 2020.
"The company is phasing out slow selling traditional sedans to free up capital for new entries in growing segments.
"Ford has the best manufacturing capacity utilisation in North America based on the aggressive restructuring we completed a decade ago, including our use of industry leading three crew operating patterns and our continued discipline around balancing capacity with consumer demand, as we have for years."