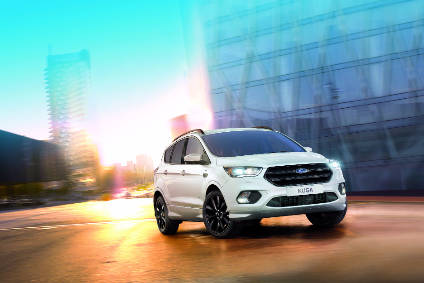 Ford reports strong demand for its vehicles in China, sales rising 24% in September. So far this year, sales for Ford, Lincoln and its joint ventures in China have totaled nearly 880,000 vehicle sales, up 11% over last year.
The driving force behind Ford's growth in China has been its expanded SUV lineup. Sales of the Ford EcoSport, Kuga, Edge, Everest and Explorer, and Lincoln MKC, MKX and Navigator have totaled nearly 230,000 vehicles this year, an 18% increase over 2015.
Ford says that Chinese car enthusiasts have also made the Ford Mustang a cult hit. Sales of the Mustang have topped 2,300 so far this year, already surpassing last year's total. The Ford Focus reached nearly 20,000 sales in September, up 43% year over year.
"Ford has been building momentum month after month, winning new customers with the most exciting and appealing lineup we have ever offered in China," said Peter Fleet, vice president, marketing, sales and service, Ford Asia Pacific. "We will continue to listen to customers and meet their needs with great new cars, SUVs and commercial vehicles."
Ford is currently launching the new Kuga SUV across China and later this year, the new flagship Lincoln Continental starts to reach dealers.
Annual sales for Changan Ford Automobile, Ford's passenger car joint venture, totalled more than 663,000 vehicles, a 14% increase compared to last year. Changan Ford saw a record September, with nearly 85,000 vehicles sold and a 25% increase compared to September 2015.
Jiangling Motors Corporation (JMC), Ford's commercial vehicle investment in China, also set a September record, selling more than 23,000 vehicles, a 28% increase compared to last year. Sales in the first three quarters totalled nearly 183,000 vehicles, steady compared to last year.
Lincoln continues to see strong momentum as one of the fastest-growing luxury auto brands in China with nearly 21,000 vehicles sold in the first three quarters of 2016, up 191% compared to last year. September was Lincoln's best month ever in China thanks to record sales for all four Lincoln models, including the new Lincoln MKZ, the Lincoln MKC, the Lincoln MKX and the Lincoln Navigator.