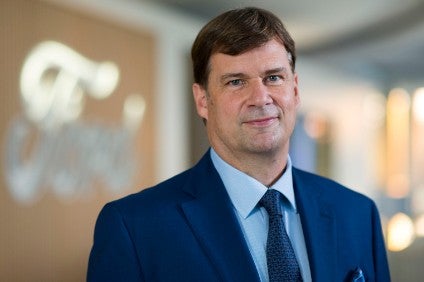 Ford has reported better than expected financial results for the third quarter on strong US demand for its trucks. The company posted net income of USD2.4bn and an adjusted EBIT of USD3.6bn (versus USD1.8bn Q3 2019), and an adjusted EBIT margin of 9.7%, led by North America at 12.5%.
Ford also said it now expects positive full-year 2020 adjusted EBIT, although the fourth quarter is likely to see a reversal (break-even at best).
The results were seen as a boost for new CEO Jim Farley. "We know that there's huge value to be unlocked as we turn around our automotive operations," said Jim Farley. "There will be additional opportunity when we start growing again, which we will do with products and services customers can't resist."
Ford generated USD6.3bn in adjusted free cash flow during the third quarter, helped, as expected, by a US$4bn rebuild of supplier payables as vehicle production reached pre-pandemic levels. The company ended the period with cash of nearly USD30bn and total liquidity of more than USD45bn after fully repaying USD15bn in revolving credit drawn down in Q1 to maintain financial flexibility in the early days of the pandemic.
"Challenges from the coronavirus were real and some risks still linger," said John Lawler, Ford's CFO. "Throughout the pandemic, we've prioritized the safety of our people, the needs of our customers and the strength of our balance sheet, and that helped us post a solid quarter."
In North America, Ford's automotive business gained one point of market share, Ford said. North America was the region that delivered profit for Ford in Q3 with a bumper EBIT of USD$3.2bn. Europe posted an EBIT deficit of USD440m, South America's deficit was USD108m, while China's loss narrowed (versus Q2 USD136m) to USD58m.
Ford said its Europe business continued to derive benefits from its restructuring program, with a cumulative $1 billion reduction in structural costs since 2018. However, Europe performance was dented by problems with the Kuga PHEV rollout. Ford said the regional business would have been profitable in the third quarter excluding effects associated with a supplier-quality issue (fires) with the new Kuga PHEV and expenses incurred for CO2 pooling (buying credits) to comply with EU emissions regulations.
CEO Farley said electric vehicles are fundamental to the company's future across its lineup – including in commercial vehicles, and the Lincoln line. Ford will reveal a new, all-electric Transit van for global markets in November.
"By the end of the year, customers will be able to choose from 12 hybrid and fully electric vehicles around the globe and there is much more to come, including developing a complete EV ecosystem," he said. "We intend to set Ford apart in EVs with capabilities that reach across our product portfolio, like an all-electric F-150 in 2022 that will be a rugged and affordable work pickup, not just a lifestyle vehicle."
Ford anticipates fourth-quarter adjusted EBIT to be between break-even and a USD500 million loss, down from both the third quarter and year-ago period. Based on that Q4 guidance, the company now expects positive adjusted company EBIT for full-year 2020. The guidance assumes no meaningful change to the current economic environment, continued steady improvement in the stability of the global automotive supply base, and no significant post-Q3 pandemic-related disruptions to production or distribution.
In Q4 Ford expects temporarily lower wholesale shipments of F-150 – about 100,000 units – reflecting a 'measured production ramp-up to assure a high-quality launch of the 2021 model'. There will also be sequentially higher structural and other costs related to manufacturing launches of Mustang Mach-E and Bronco Sport, advertising launch activities for new products, including the Bronco brand, higher material and other costs, and sequentially lower EBT from Ford Credit.
See also: Ford swings to quarterly profit, but there are big challenges ahead for the Blue Oval and Jim Farley