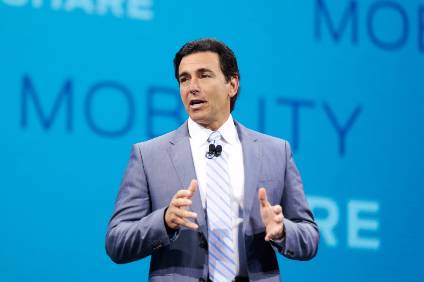 Ford has named Jim Hackett as its new president and CEO, replacing Mark Fields.
Hackett moves from being head of the Ford subsidiary that works on autonomous vehicles. Fields followed Alan Mulally into the CEO position in July 2014. However, he has come under fire recently from investors dissatisfied with lower profitability and a share price that has fallen by around 40% over the past three years.
"We're moving from a position of strength to transform Ford for the future," Ford Chairman Bill Ford said. "Jim Hackett is the right CEO to lead Ford during this transformative period for the auto industry and the broader mobility space. He's a true visionary who brings a unique, human-centered leadership approach to our culture, products and services that will unlock the potential of our people and our business."
Added Hackett: "I am so excited to work with Bill Ford and the entire team to create an even more dynamic and vibrant Ford that improves people's lives around the world, and creates value for all of our stakeholders. I have developed a deep appreciation for Ford's people, values and heritage during the past four years as part of the company and look forward to working together with everyone tied to Ford during this transformative period."
Jim Hackett, 62, joined the company's operational ranks last year as head of its 'smart mobility' operation, which includes driverless technology.
Last week Ford announced job cuts to strengthen the company's bottom line. A big fall in profitability in the first quarter triggered shareholder discontent. Fields, though, has maintained that the strategy to invest in electrified vehicles and driverless vehicle technologies would create a dip in profits. Ford aims to have a market ready autonomous vehicle by 2021.
Ford said in a statement that Hackett, together with Bill Ford, will focus on three priorities:
Sharpening operational execution across the global business to further enhance quality, go-to-market strategy; product launch, while decisively addressing underperforming parts of the business;
Modernising Ford's business, using new tools and techniques to unleash innovation, speed decision making and improve efficiency. This includes increasingly leveraging big data, artificial intelligence, advanced robotics, 3D printing and more;
Transforming the company to meet future challenges, ensuring the company has the right culture, talent, strategic processes and nimbleness to succeed as society's needs and consumer behavior change over time.
Jim Hackett served as CEO of Grand Rapids, Michigan-based furniture company Steelcase for nearly two decades.
Reports say that during his tenure as Steelcase CEO he made considerable cuts to the cost base (especially the headcount), but the moves helped place the company on a sustainable path. He's also said to be a big advocate of corporate change and is close to Ford chairman Bill Ford.
Ford has also announced a number of other senior management changes today. There is a new structure for its operations and three new leaders report directly to Hackett – Jim Farley, Joe Hinrichs and Marcy Klevorn.
Detroit has investors on its mind – COMMENT